Najam Discusses Pakistan & India Speeches at UNGA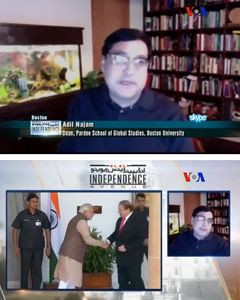 Speaking on the Voice of America (VOA) television program Independence Avenue (October 2, 2015), Prof. Adil Najam, Dean of the Frederick S. Pardee School of Global Studies at Boston University, called on India and Pakistan to lower the rhetoric and sit down for serious talks with each other.
Najam was a guest on the show along with Dr. Maleeha Lodhi, the Pakistan Ambassador to the United Nations, where the topic was to analyze the speech by Pakistan Prime Minister Nawaz Sharif to the United Nations General Assembly. He applauded the gesture of the Pakistan Prime Minister to offer a concrete plan for talks and de-escalating the tensions between the two countries. However, he suggested that both countries need to do so earnestly and the Indian Prime Minister needs to respond in the same spirit.
Najam expressed concern over the increasing level of belligerence from India and the failure of the two countries to capitalize on the opportunities to improve relations. He suggested that neither country will benefit from this and both stand to lose by being viewed and forever bickering and blaming each other for all their woes.
Dean Adil Najam is an expert on South Asia politics and also on environmental policy. More on Dean Najam here.
Video of the full interview available here.