Selin Teaches Governance in Geneva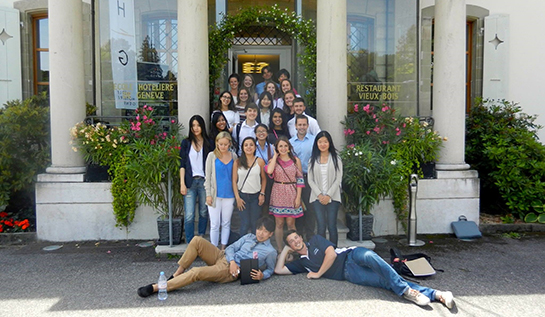 Henrik Selin, Associate Professor of International Relations at the Frederick S. Pardee School of Global Studies at Boston University, taught the 2015 summer course Global Governance, Economic Development and Human Rights in Geneva, Switzerland.
"This is a fantastic opportunity for BU students across campus to study the theory and practice of global governance by engaging with major international organizations located in Geneva," said Selin. "It gives the students a unique behind-the-scenes look into the major activities of some of the world's most influential organizations, including the United Nations, the World Trade Organization and the Global Fund."
Global governance is a complex and dynamic process through which public, private, and civil society actors having different, and sometimes conflicting, interests and perspectives seek to address common issues and problems. The course draws on the unparalleled resources of Geneva as a hub of global politics and policy-making.
"We had 21 students, and it was definitely our largest," said Alissa Kramer, program manager for BU Study Abroad. "The students visited the United Nations and the World Health Organization. It's our only short-term intensive program, and it's definitely our most popular."
This session marked Selin's second time teaching the course.
Selin conducts research and teaches classes on global and regional politics and policy making on environment and sustainable development. His most recent book is EU and Environmental Governance, by Routledge Press, and is also the author of Global Governance of Hazardous Chemicals: Challenges of Multilevel Management by MIT Press. Learn more about him here.