Najam talks to CTV News & Dawn on Pakistan Heat Wave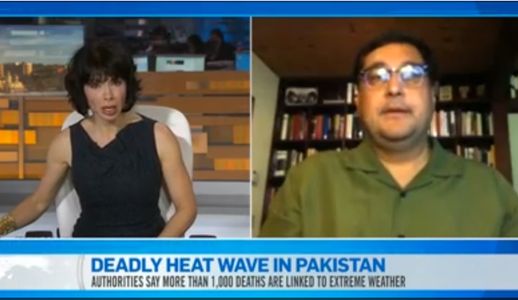 Over 1000 people have died in less than a week in an intense heatwave in the coastal metropolis of Karachi, Pakistan. Dean Adil Najam of the Boston University Frederick S. Pardee School of Global Studies, who is from Pakistan himself and an expert on global climate change, spoke to the Canadian news channel CTV News on the the links between climate change and the extreme weather events.
Dean Najam pointed out that while extreme weather events happen even in a non-climate change world, but what climate change does is that it "throws surprises" at us.
"It says, I going to surprise you. I am going to throw something at you when you don't expect it. I am going to throw something at you which is bigger than what you expect. In a world where a lot of that is happening in a lot of places, that is the nightmare of climatic change."
Dear Najam went on to point out that deadly heatwave in Karachi was deadly not just because it was hot, but because people "were not prepared to deal with that heat." He suggested that what has failed in Karachi is that "a large city was not prepared to deal with the impacts of [excessive] heat." In essence, he pointed out, that [especially in developing countries] "climate becomes an issue of development, and ultimately an issue better governance."
The full video of Prof. Najam's interview can be viewed here.
Dean Najam was also interviewed by the Pakistan newspaper Dawn on the extreme heat, in a June 29 article entitled, "Karachi Should Prepare for More Heatwaves." From the text of that article:
"The loss in Karachi has been horrendous not just because the heat was unbearable, but because the city and particularly its poorest residents were so very ill-equipped to deal with its impacts," said Najam, adding that Karachi was a perfect example of "what an unresilient city looks like"
He went on to highlight the link between seveere impacts of extreme climatic events and bad governance:
"Good governance is not a cure for dehydration, but good governance provides citizens with the means to deal with — and avoid — dehydration," Najam said.

"The very purpose of good governance, especially good governance for climate change, is to be able to give a meaningful safety net to those who are the poorest, the weakest and the most vulnerable."
You can read the entire article here. 
Prof. Adil Najam was a lead author of the Third and Fourth Assessments of the Intergovernmental Panel on Climate Change (IPCC) and studies climate and development policy with a particular focus on developing countries. Prior to being appointed the Dean of the Boston Univeristy Pardee School of Global Studies, he served as the Vice Chancellor of the Lahore University of Management Sciences (LUMS) in Lahore, Pakistan. Read more on him here.