Adela Pineda Appointed Director of Latin America Studies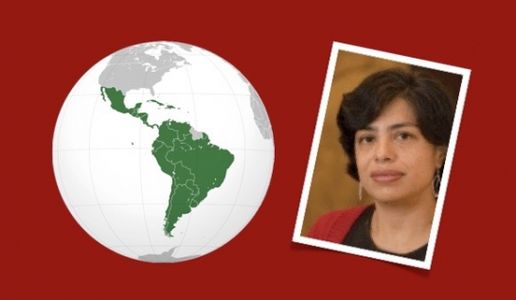 Adela E. Pineda, Associate Professor of Spanish at the Department of Romance Studies in the College of Arts and Sciences, has been appointed as the new Director of the Latin American Studies Program at the Frederick S. Pardee School of Global Studies. Her appointment is for the period 2015-18 and she succeeds Prof. James Iffland in this position.

In making the appointment, Dean Adil Najam of the Pardee School of Global Studies welcomed Prof. Pineda to this position and said that "I am delighted that Adela has agreed to take up this position. The Latin American Studies Program is one of our older regional studies programs and of great importance to the Pardee School and the University. I am sure that she will add new dimensions and vitality to its activities."
Dean Najam also thanked the outgoing Director, Prof. James Iffland, for his excellent contributions and service: "I am most thankful to Jim Iffland, who had very kindly stepped up to assume the Directorship of the Program in the year it transitioned to the Pardee School. He has done a stellar job in strengthening the scholarly community that works on Latin America at Boston Univeristy and in integrating the Program with other units at the Pardee School."
Prof. Iffland welcomed the appointment of Prof. Pineda as the new Director, saying, "Having worked with Adela for many years, both in the Spanish program in the Department of Romance Studies and the Latin American Studies Program, I know that she will do a great job.  She has wonderful ideas and knows how to turn them into reality."
Prof. Timothy Longman, the Chair of the Council of Directors of the Division of Regional and Thematic Studies at the Pardee School, welcomed the news and said, "I look forward to working with Adela Pineda. Latin American Studies is an important program for global and regional studies at BU and has great potential to continue to grow and attract more student and faculty interest."
Professor Pineda's research interests focus on nineteenth- and twentieth-century Spanish American literature, culture, and film and on the relationship between politics and culture.  She is the author of Geopolíticas de la cultura finisecular en Buenos Aires, París y México: las revistas literarias y el modernismo, a book on the transatlantic literary practices of modernista authors. (More about her here).