Student Spotlight: Connecting With Bangladesh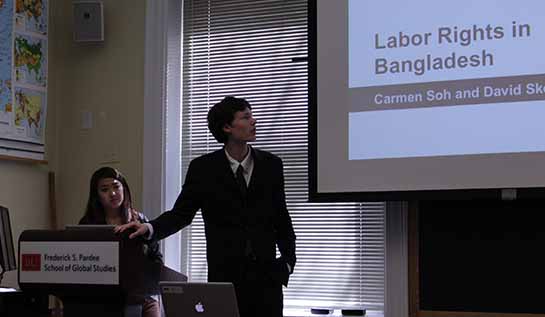 In 1971, after a bloody civil war, Bangladesh emerged as an independent country. In the first half-century of its existence, it has seen its share of tragedy, from severe annual floods and mudslides to industrial disasters such as the 2013 Rana Plaza garment factory collapse, which killed over 1100 workers.
It's a world removed from the pleasant environs and reliable infrastructure enjoyed by students at Boston University, where the challenges faced by those pursuing education in Bangladesh or other places in the developing world can seem distant and abstract. But a few Pardee School of Global Studies students participated in a new initiative designed to use communications technology to bridge those gaps.
The students in IR 501, Conflict and Cooperation in Asia, partnered with a class in "Comparative Politics" at the Asian University for Women (AUW) in Chittagong, Bangladesh, for a semester-long digital exchange program focusing on human rights, political and economic issues in Bangladesh.
"We communicated via Skype, email, and Facebook chatting with the students over there, and I built a close friendship with one of the students I met through this, a girl named Anshu Adhikari," said Jessica Li, who collaborated with classmate Daniel Conroy and three AUW students for a deep dive into politics in the Chittagong region. "I shared with her insights into fundraising I had gained as a member of BU's China Care Fund, and she is now using those same strategies to raise funds to help victims of the Nepal earthquake."
The inspiration for the class came when Manjari Chatterjee Miller, Assistant Professor of International Relations at the Pardee School, began collaborating with AUW professor Sarah Shehabuddin. The two women were classmates at Harvard, and remained friends after graduating.
"I think that the project has been a success, despite challenges. There is a disparity in class sizes, as well as logistical challenges like negotiating time zone differences and Internet availability in a developing country," Miller said. "You can kind of get into a bubble, studying here. It's important to get a real sense of the difference in the scale of issues."
Miller's students agreed.
"I think what struck me the most was that, despite how different our lives were, how many similarities we and the students in Bangladesh enjoyed," said Shun Furusawa, who collaborated with Ann Wang and three AUW students on a project on sexual abuse. "College is college."
AUW is a university for women from lower-income families from all over Asia and is partially funded by the Gates Foundation.
"It's so easy for those of us in America to take for granted all the resources we have at our disposal, and talking to students in a developing country is a great way to show you that," said student Sidhanta Mehra.