Students Travel to Cuba
April 2, 2015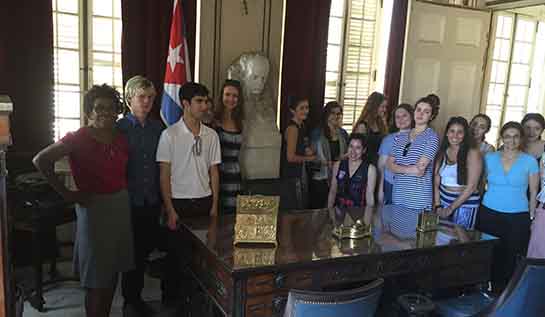 For the first time, students affiliated with the Frederick S. Pardee School of Global Studies at Boston University were able to travel over spring break to Cuba, a nation whose long isolation from the United States may soon be coming to an end.
"This was the first time we were able to go to Cuba, and the trip was three years in the making," said Ana Maria Reyes, Assistant Professor of Latin American Art History. She was one of the professors who accompanied 13 students from the Pardee School and other schools within Boston University on the trip, which was organized in collaboration with the Latin American Studies Program, an affiliated center of the Pardee School. "Though the U. S. is beginning the process of normalizing diplomatic relations with Cuba, recreational travel is still banned under the Congressional embargo. In order to travel to Cuba, you must be going for educational purposes. Our students took classes from 9 to 5 every day."
The trip took place over spring break 2015 and involved students and faculty from Latin American Studies, Political Science, African Studies, Economics, and other departments. Students on the trip participated in activities from touring a Cuban radio station to comparing Cuban and American educational models with students from the University of Havana.
"Cuba is incredibly close to the U. S., but incredibly distant in a lot of ways. There would be points of familiarity, like going to a baseball game, and then other parts of the experience that were just worlds away from our students' experience, such as the wounded architecture of Havana," Reyes said. "But I think the biggest impression I took away was a genuine excitement, on both sides, of what's to come as we become closer with Cuba."
Reyes said that BU hopes to offer further educational travel opportunities to Cuba in the future. For more information, please click here.