Min Ye Explores the Trans-Pacific Partnership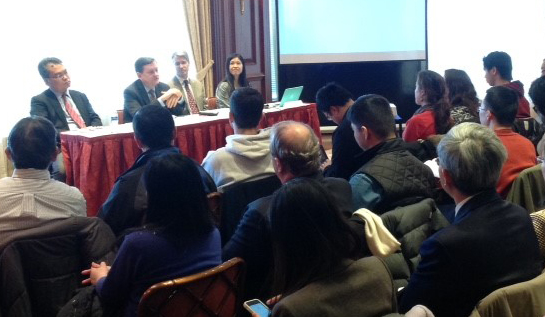 Prof. Min Ye of the Frederick S. Pardee School of Global Studies, who was selected to be a Public Intellectual Program Fellow by the National Committee on the U.S-China Relations for the period 2014-2016, organized a public outreach event on March 19 demystifying the Trans-Pacific Partnership (TPP), currently under debate by the U. S. Congress.
"The TPP: Politics in Washington and Geopolitics in Asia" was held at 1 Silber Way before a large crowd. Speakers included Matthew Goodman (CSIS), Min Ye (Pardee School) and Peter Shih (TECO Boston). The event was chaired by William Grimes (Pardee School).
"The TPP event went very well. It attached around 70 people, old and young, scholars and Asian diplomats, and the general public in broader Boston area," said Ye. "Following the program, scholars were telling me that the program was truly high-quality, with four experts representing major issues related to TPP and Asia-America economic relations in general. Students also reported that they did not know much about TPP and found it so interesting."
The event was organized by the Center for the Study of Asia, an affiliated center at the Frederick S. Pardee School of Global Studies at Boston University, was co-sponsored by the World Affairs Council in Boston, with support from the National Committee on U. S.-China Relations' Public Intellectuals Program.
The Public Intellectual Program (PIP), launched by the National Committee in 2005, is dedicated to "nurturing the next generation of China specialists who, in the tradition of earlier China hands, have the interest and potential to venture outside of academia to engage with the public and policy community."