Student Spotlight: GIRC Holds Research Conference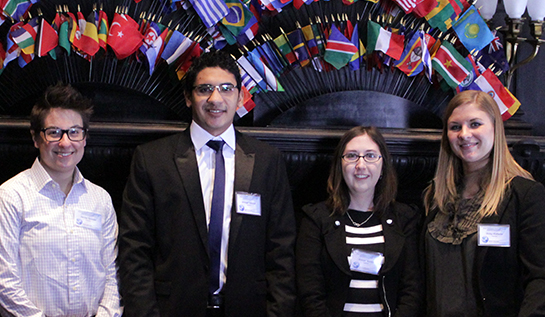 The Frederick S. Pardee School of Global Studies at Boston University, in its inaugural year, played host to the student-run research conference "Global Development, Peace and Security: Advancing Human Progress."
The conference was organized by the Graduate International Relations Student Council (GIRC), and featured research from students at Boston University and other prestigious schools.
"I think the conference went extremely well," said Alba Balla, one of the organizers of the conference. "Panels went really well, and professors and attendees gave some tremendous feedback. The presenters stated that they were extremely happy with the conference, and they enjoyed getting to know each other."
In total, 19 students presented original research at the Feb. 28 conference – Mariana Echaniz Arciga, Charlott Johansen, Alexander Hyung Min Donnelly, Esther Austin, Ahmed Hassan, Andrew VanNostrand, Vicky Kelberer, Jill Richardson, Laura Muth, Yiming Cao, Guangzhi Ye, Sarah Hill, Christopher Inglin, Sanaa Smaoui. Cantay Caliskan, Jackie Gronau, Rebecca Cowing, Nyeleti Honwana, and Kenneth Rayner. Students came from Boston University, as well as Northeastern, Suffolk, George Washington and Long Island Universities.
The keynote speech was given by Anthony Janetos, Director of the Pardee Center for the Study of the Longer-Range Future. He spoke about how climate change was increasingly becoming a lifestyle issue, and the ways recent climate events highlight the disruption weather events have on daily life.
Additionally, the students and Janetos were joined by Amb. Robert Loftis, assistant Professor Noora Lori, and Dean Adil Najam.
"I am extremely delighted by the leadership shown by GIRC in organizing this exciting and insightful conference," Najam said. "I was proud to attend, and believe I and all others in attendance learned much."
Loftis moderated the panel on politics and national security.
"I felt the concepts addressed by the students were very interesting and timely," Loftis said. "The format of the conference gives students an opportunity to explore ideas in a no-fault atmosphere. There's a lot of give and take, and defending ideas before peers is  a great experience."
The conference was sponsored by the Center for the Study of Europe, International History Institute, Latin American Studies Program, Pardee Center for the Study of the Longer-Range Future, and the Frederick S. Pardee School of Global Studies.
Below, enjoy a slideshow with some views of the conference.