Loftis: Media Follows Military in Crisis Zones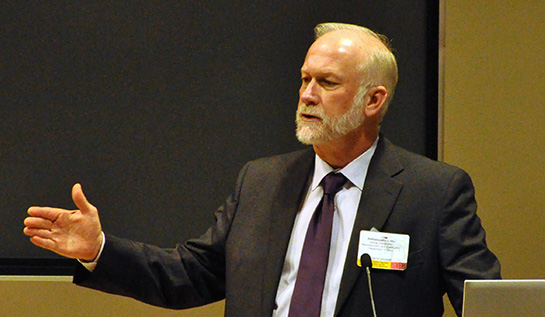 For decades, conflict and civil war has ravaged the Democratic Republic of the Congo in central Africa. Millions have died since 1998 when hostilities erupted, half of whom are children. Yet the violence is rarely reported in American media.
Analyzing this trend was Amb. Robert Loftis, professor at the Frederick S. Pardee School of Global Studies at Boston University. He made his case on Feb. 23 at the most recent lecture in the Kelman Series at Harvard, entitled "What Happens to Media Coverage of Conflicts After Everyone Leaves?"
"My question approaching this topic was, who is 'everyone?' People who live in zones of conflict are of course still there," said Loftis. "But I think the bigger issue the question speaks to is that U. S. media tends to focus on conflicts where there is a concern about military action, places like Syria and Ukraine."
This strategy, however, can have grave consequences when conflicts take the public by surprised, inhibiting discourse.
"Last year, all the coverage in Iraq was about the military drawdown, despite the fact that there were still thousands of Americans in Iraq," Loftis said. "Because that was the narrative, the rise of ISIS largely caught the media by surprise."
Unfortunately, diagnosing the problem does not mean solving it.
"I wish I could say I or anyone else has a great solution. Obviously, more reporters in conflict zones would be ideal," Loftis said. "But media is a business, and they have to be responsive to the topics that interest their audiences. Do people want to know more about the world, or do they want to know about Kardashians? That's the issue."
Joining Loftis was Farnaz Fassihi, senior Middle East correspondent for The Wall Street Journal and 2015 Nieman fellow at Harvard. She has lived overseas since 2002, covering wars and uprisings from Afghanistan to Iraq in the region. She served as the Journal's Baghdad bureau chief and deputy Middle East Bureau Chief based in Beirut.
The Kelman series is sponsored by the Program on Negotiation at the Harvard Law School, the Nieman Foundation for Journalism, the Shorenstein Center on Media, Politics, and Public Policy, The Weatherhead Center for International Affairs, and Boston area members of the Alliance for Peacebuilding. The theme for this year's Kelman Seminar is "Negotiation, Conflict and the News Media."
Loftis served in the State Department and Foreign Service from 1980 to 2012, where he held a wide variety of assignments, including Acting Coordinator for Reconstruction and Stabilization (2010-2012), Special Representative for Avian and Pandemic Influenza (2009), Senior Adviser for Security Negotiations and Agreements (2004-2007), Ambassador to Lesotho (2001-2004) and Deputy Chief of Mission in Mozambique (1999-2001).   He was most recently an Inter-agency Professional in Residence at the United States Institute of Peace (2012). From 2007-2009, he was the Deputy Commandant and Senior Adviser for International Affairs of the Industrial College of the Armed Forces at the National Defense University, where he also taught Strategic Leadership.