The Crises of Chinese Leadership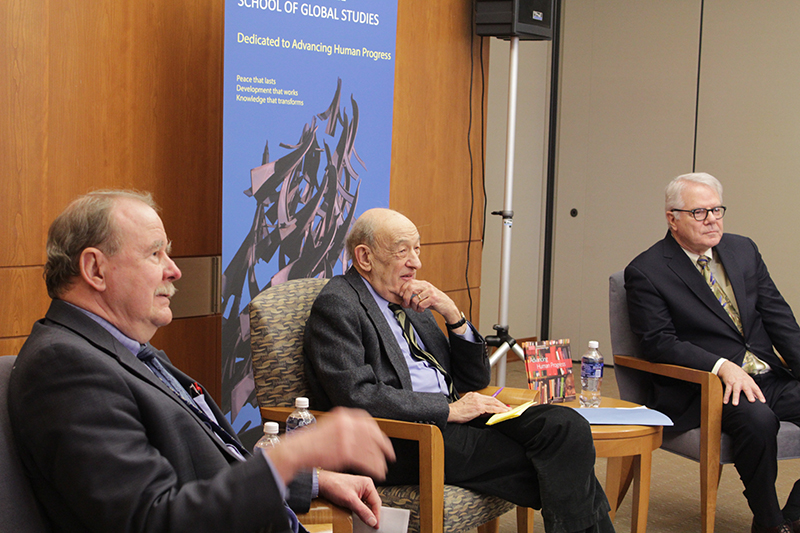 "China is a very red place."
You could be forgiven for hearing a phrase like that as a comment on Communism, or perhaps a nod to the Chinese flag. But spoken by David Lampton, director of China Studies at the Johns Hopkins School of International Studies, the statement takes on a different meaning.
"If you look at maps of the seismology of China, which measure geological activity on a color scale from blue to red, you can see that over modern history, China has had a disproportionate share of massive seismological events," said Lampton, at the most recent in the Pardee School Inaugural Series of lectures, entitled The Politics of Leadership in China, co-sponsored by the Center for the Study of Asia.
Describing the life of China's political leaders in this red place, Lampton conjures "a series of crises, and there are never the resources necessary to deal with them."
Lampton was joined by Ezra Vogel, professor of the social sciences emeritus of Harvard University, and Joe Fewsmith, Pardee School director of Undergraduate Studies. The event was held Feb. 24 before a packed crowd at the BU Hillel House.
In introducing the speakers, Pardee School Dean Adil Najam referred to them as the 'Three Tenors of China Studies.'
"These are very exciting speakers, and I can't think of a better selection of scholars to comment on modern China," Najam said. "We are delighted to welcome them."
Of great concern to all three speakers were changes in the political style of China's current President, Xi Jinping.
"Xi Jinping is a second generation leader, and he has tried to centralize power," Vogel said. "While he is popular with many of China's rural populace, the middle class is concerned about how many different offices he has brought under his charge, as well as clamping down on the press and civil liberties. It's a brittle situation."
All three speakers compared the current president to longtime leader Deng Xiaoping. While never holding the office of leader of the Communist Party, Deng Xiaoping nonetheless exerted enormous influence in crafting the second generation of Chinese leadership after the Cultural Revolution of Mao Zedong.
"One thing I think Xi Jinping has taken from Deng Xiaoping is trying to forge an identity as a strong leader and a reformer," Vogel said. "But at the same time, the circumstances today are quite different."
Those circumstances, which include a growing economy and middle class, a newer and more prominent role in international affairs, and an increasing desire for civil liberties and information access, have led to a leadership style that harkens back to earlier, more centralized power.
"Xi Jinping has become a strongman. His hands are on more levers than his immediate predecessors," Lampton said. "But you have to wonder, can he stuff the toothpaste back in the tube? With more knowledge and globalization in the middle class, will they accept a stronger leader?"
The event included a question and answer session as well as a catered reception.
"China is an ever changing place, and you can study it for 40 years and all of a sudden something pops out of the woods and changes everything," Fewsmith said. "We have over 100 years of collective experience in China studies and still we don't find it an easy place to figure out."