Welcoming the Pardee Dean's Ambassadors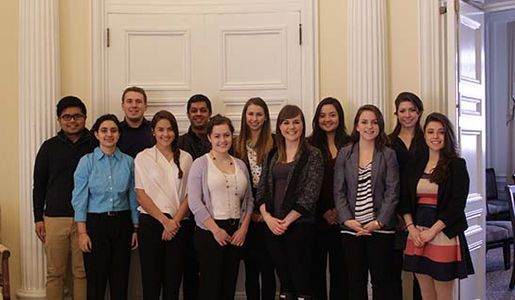 The Frederick S. Pardee School of Global Studies at Boston University is proud to welcome its inaugural class of Dean's Ambassadors.
The Dean's Ambassador program is the public face of our student body, Dean Adil Najam, and the Pardee School at large. The role as a Dean's Ambassador is to represent both the Pardee School programs and the Dean's office at special events, and to serve as a liaison to the wider BU community as well as prospective students and families.
Our first class of Dean's Ambassadors is:
Cambria Arvizo
Salvatore Borgognone
Tyler Durniak
Ryan Galindo
Charlotte Gleeson
Meredith Hauser
Lucy Kelly
Abigail Klinedinst
Mariya Kubyshko
Caroline Lord
Sidhanta Mehra
Asha Mehrotra
Taylor Resteghini
Henderson Roman
Gabriela Serrano
Zahra Spencer
Andrea Vidal
Kenneth Whittaker
Elise Wilson
Aldea Zhang
"I am proud to welcome the Dean's Ambassadors, and am confident they will promote the message and values of the Pardee School," said Dean Adil Najam. "Our students make us proud, and we are thrilled to work together with them in this initiative."