Alumni Spotlight: Alia Wong brings Pacific to Atlantic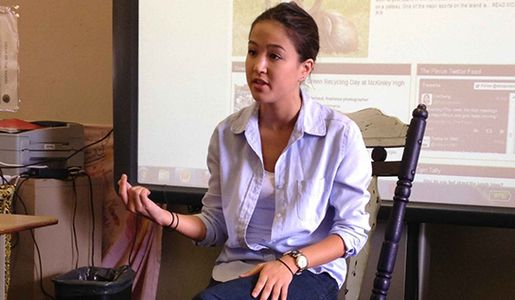 In a way, Pardee School of Global Studies alumna Alia Wong's position as an associate editor at The Atlantic couldn't be more ironic.
Wong (CAS '12) grew up in the heart of the Pacific Ocean – Hawaii. A child of mainland parents, her early years in the Aloha state gave her unique insight into the unexpected contrasts and delights of a multicultural world.
"I'm half Chinese, so I experienced Hawaii as a lot of different melting pots. But one thing I always noticed, though it did not always affect me personally, was the discrimination faced by native Hawaiians," Wong said. "There was a long history of oppression, of distancing from their native culture, these people to whom these islands once belonged. It really frustrated me – and as a journalist, you learn that the things that frustrate you are the things you have to write about."
During her tenure at Boston University, Wong majored in both journalism and international relations, and the scholarly foundation the Pardee School gave to her in analyzing cultural issues allowed her a deeper understanding of the plight of native Hawaiians when she returned after graduation to write for Honolulu Civil Beat.
"I began writing about education, which I landed on randomly when I was seeking a job. But over time my passion has become taking education reporting out of the classroom and putting it in the social context of the entire community," Wong said. "Education issues are a bridge to public health, to equality."
In a perfect marriage of her lifelong interest in Hawaiian culture, Wong wrote a series of articles about some charter schools on the Big Island, including a Hawaiian-language immersion school that's attempting to redress the disenfranchisement of Native Hawaiians.
"When I was young, the number of fluent Hawaiian speakers was in the single digits," Wong said. "Now, thanks in part to the social mission of these schools, it's in the thousands. Many of them have a social mission to provide language immersion education and other programs to increase native Hawaiian cultural engagement."
It was this series that garnered Wong one of her two Education Writer's Association awards, which in turn likely caught the interest of the Atlantic. They specifically requested Wong to work in their Washington, D.C. headquarters as one of the first education editors in the news outlet's history.
"Going to [the Pardee School] let me see the culture I grew up with in a whole new way, which in turn made me more passionate for social justice for minority groups," Wong said. "It really helps me here; there are so many important issues to focus on."
For now, Wong is still learning those issues, just as she is learning the ins and outs of Washington D.C.'s legendary youth culture. But she knows the lessons she learned at Pardee and on the islands of her home state will continue to serve her well.
"So much of what we see happening in the world today is the product of some kind of cultural legacy, and it takes an interdisciplinary approach to understand a social problem from every angle," Wong said. "I got that and so much more from the wonderful professors I studied with. It's culture that's inherent to understanding identity."