Selin Comments on WMO Climate Report
December 4, 2014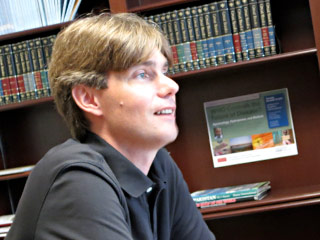 Henrik Selin, associate professor on International Relations at the Frederick S. Pardee School of Global Studies at Boston University, spoke to BU Experts Media on the effects of global climate change on vulnerable populations.
In the comments, Selin said:
"The most recent data from the World Meteorological Organization showing that 2014 may be another record warming year is just one more piece of evidence that the major emitters of greenhouse gas emissions are failing to act in any kind of responsible manner."
Selin is the faculty coordinator for the IR & Environmental Policy program. He is also a Core Faculty member of theCenter for Energy and Environmental Studies, Boston University; and a Fellow with the Frederick S. Pardee Center for the Study of Longer-Range Future, Boston University.
You can read the full release here.
FURTHER READING:
Prof. Selin on UN Climate Summit
Humphrey Fellows Visit Pardee School
Alum Develops App to Combat Colombian Poverty