Igor Lukes Discusses Legacy of Vaclav Havel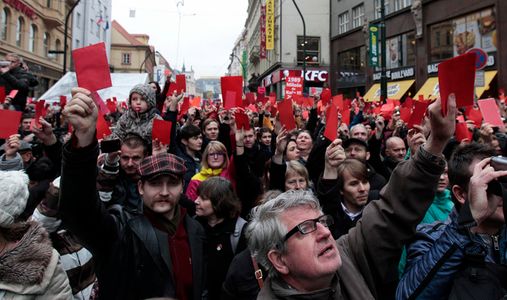 Igor Lukes, professor of International Relations and History at the Frederick S. Pardee School of Global Studies at Boston University, published a story in The Conversation on the long shadow of former Czech president Vaclav Havel.
Twenty-five years after Havel's election to the presidency, Czech confidence in its elected officials is at an all-time low. To help people understand the shift, Lukes, who is the Honorary Consul of the Czech Republic in Boston, also gave a talk and film screening at Brookline's Brattle Theatre on Nov. 24.
"The event was called "Vaclav Havel and the Velvet Revolution" and was sponsored by WorldBoston," Lukes said. "I spoke about Havel and his legacy and I introduced the three movies that were shown – "On the Party and the Guests," "The Uninvited Guest," and "Who is Vaclav Havel?"
In his piece at The Conversation, Lukes writes:
"How did it happen that the Czech Republic's presidency declined from the universally respected Havel to the present low? For an answer we have to look at today's Russia and the crisis in Ukraine…When he compares himself to Vaclav Havel, (current president) Milos Zeman sees his own smallness. This propels him toward attention-seeking pronouncements and other forms of political exhibitionism. It seems incredible that the unity of the West, and the legacy of the Velvet Revolution, should be jeopardized by a man struggling with his own insignificance."
Lukes' books include On the Edge of the Cold War: American Diplomats and Spies in Postwar Prague (New York: Oxford, 2012), Rudolf Slansky: His Trials and Trial (Washington: Woodrow Wilson Center, the working papers series, 2006), Ceskoslovensko mezi Stalinem a Hitlerem: Benesova cesta k Mnichovu (Prague: Prostor, 1999), and Czechoslovakia Between Stalin and Hitler: The Diplomacy of Edvard Benes in the 1930′s (New York: Oxford, 1996), which won the Boston Authors Club Award and the Kahn Award. His scholarly articles have been published in eleven countries. Lukes is the recipient of the Central Intelligence Agency 2012 Award for Outstanding Contribution to the Literature on Intelligence and the 2000 Stanley Z. Pech Prize for his article "The Rudolf Slansky Affair: New Evidence."
You can read the full article here.