Bethany Saul follows her passion to Syrian refugee camps in Jordan
July 9, 2014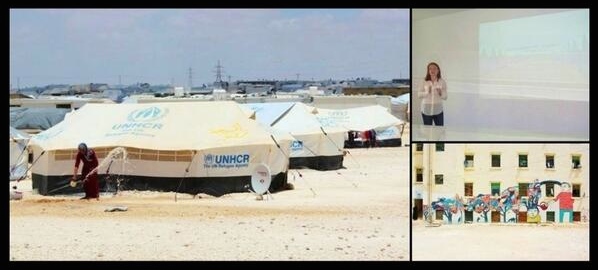 Bethany Saul graduated from the Deaprtment of International Relations, now part of Boston Univeristy's newest School – The Frederick S. Pardee School of Global Studies – earlier this year. She is now in Amman, Jordan helping with field research on the Syrian refugee crisis and life in the refugee camps. Bethany works with the Boston Consortium for Arab Region Studies (BCARS), of which Boston University is a founding member. BCARS works closely with the BU Institute for Iraqi Studies.
Here's more about it in her own words:
"During my research this summer, I have been looking at the lived experiences of victims of conflict and forced migration in the camps along the border of Syria and Jordan. Specifically, field research takes place both in Amman and in the refugee camps of Zaatari, Azraq, and Cyber City.

My research primarily involves ethnographic field research on secondary education and higher education for Syrian refugee youth across the three camps. Overall, this research has introduced me to the complex nature of forced migration and the even more complex nature of the global, regional, and domestic structures that seek to manage it.

I travel to the camps regularly and when I am not in the field, I gather field notes of team members, transcribe recordings, summarize findings, and identify common research themes. I recently traveled to Beirut, Lebanon to summarize findings from the field with colleagues, attend a conference, and lead a presentation at the Issam Fares Institute (IFI), American University of Beirut."
Bethany credits the interdisciplinary nature of her undergraduate training for preparing her for this experience. The opportunity to learn from anthropologists, political scientists, linguists, and sociologists like Professors Richard Norton, Margaret Litvin, Thomas Barfield, and others provided her with tools needed to conduct ethnographic field research amidst such political and social turmoil.
Best of luck, Bethany. Proud of you.