"Where is China Headed?" – Session 1 on "Politics"
VIDEO: Pardee Center Conference
December 8, 2008

An international group of distinguished scholars came together to discuss the future China in terms of politics, religion, law, economics, energy, the environment and health care during an all-day conference on December 8 titled "Three Decades of Reform and Opening: Where is China Headed?"
Sponsored by the Frederick S. Pardee Center for the Study of the Longer-Range Future, the conference took place at the Rafik Hariri Building at Boston University's School of Management. More than a hundred people attended the four sessions and the luncheon plenary of the all-day conference.
The conference was organized by well-known China expert Joseph Fewsmith, a Pardee Center Faculty Fellow and a Professor in BU's departments of International Relations and Political Science. Papers were presented by 14 leadings China scholars, including by Professor Fewsmith and other China experts from around the U.S. as well as from China and Germany. These papers will be collected in an edited book expected to be published in 2009.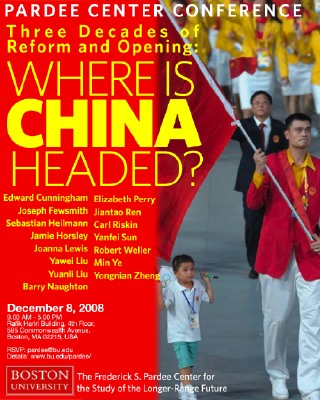 This is the video of the first panel session of the conference, on "Politics." Chair and speakers include:
Chair and Discussant: John Gerring
Min Ye – How China Joined the Capitalist World through Foreign Direct Investment? Social Network Approach to China's Economic Reform
Joseph Fewsmith – The Challenge of Maintaining a One-Party State
Yawei Liu – China's Elusive Quest for Choice: From the Qingxian Model to the Guiyang Experiment
Jiantao Ren – Ideology in Contemporary China
Videos of the entire conference can be viewed at the Pardee Center Multimedia Library:
Session 1: Politics
Session 2: Social Order
Lunch Plenary: Keynote by Amb. Stapleton Roy
Session 3 :Economics and Economic Decision-Making
Session 4: Systemic Constraints