Upcoming Seminar: "Pathways to a Natural Gas Off-Ramp: The Economic Case for an Energy Transition"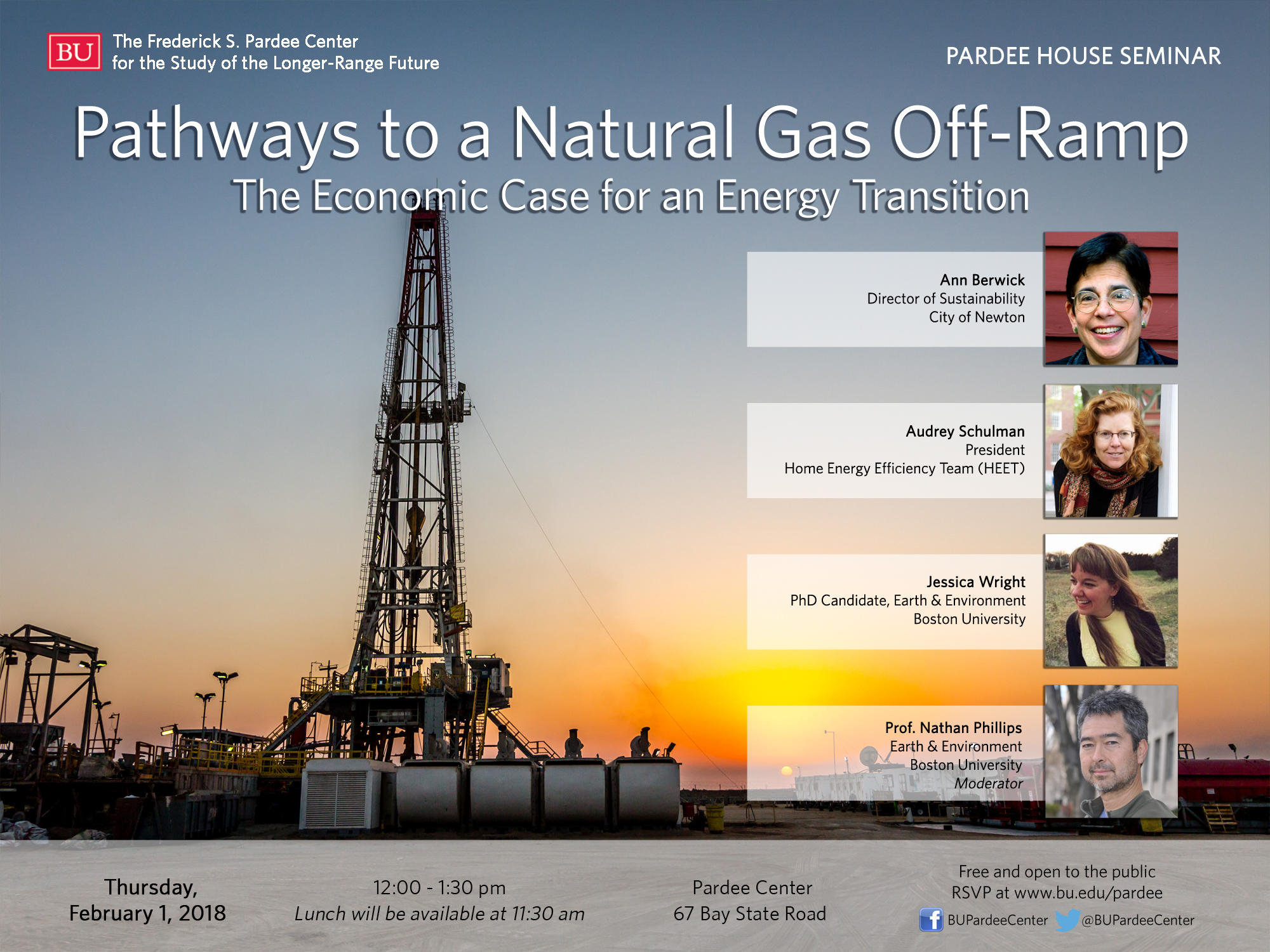 The Frederick S. Pardee Center for the Study of the Longer-Range Future invites you to attend its upcoming seminar, "Pathways to a Natural Gas Off-Ramp: The Economic Case for an Energy Transition," at the Pardee Center, 67 Bay State Road, on Thursday, February 1 from 12:00 – 1:30 pm (lunch will be available beginning at 11:30 am).
The panel discussion will feature Ann Berwick, Director of Sustainability for the City of Newton, Audrey Schulman, President of Home Energy Efficiency Team (HEET), and Jessica Wright, a PhD candidate in the BU Department of Earth & Environment. The discussion will be moderated by Pardee Center Faculty Associate Prof. Nathan Phillips of the BU Department of Earth & Environment.
Speakers:
Ann Berwick is the Director of Sustainability for the City of Newton. She served as Chair of the Department of Public Utilities under Governor Deval Patrick from June, 2010 until January 2015. She was also the president of the New England States Committee on Electricity from 2012 to 2015. Prior to being appointed chair of the DPU, Ann was the Commonwealth's Undersecretary for Energy and also Acting Chair of the Energy Facility Siting Board. Ann served as Chief of the Environmental Protection Division in the Massachusetts Attorney General's Office from 1991 to 1996, where she exercised joint oversight of the Massachusetts Environmental Strike Force. Ann has been a legal services attorney, and a partner in the litigation department at the Boston law firm Goulston & Storrs. Ann has four grown children and lives in Newton with her husband.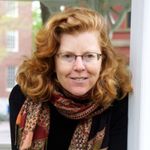 Audrey Schulman is the President of HEET, a nonprofit that works to fight climate change. HEET has created public zoomable maps of utility-reported natural gas leaks across Massachusetts. Schulman has worked on numerous studies on natural gas infrastructure, working with diverse organizations including municipalities, Metropolitan Area Planning Center, numerous utilities and many environmental nonprofits. Schulman is also the author of five novels, which have been translated into 11 languages, and reviewed by The New Yorker and CNN.
Jessica Wright is a first-year Ph.D. student working with Prof. Nathan Phillips and Prof. Suchi Gopal of the Earth & Environment department. Her research focuses on transitioning off of natural gas energy and understanding the effects of natural gas leaks on urban vegetation, human health, and consumer costs. Recently, she has been exploring the steps for transitioning homes and businesses off of natural gas and onto electric energy, in addition to helping stakeholders visualize the infrastructure under Boston's streets.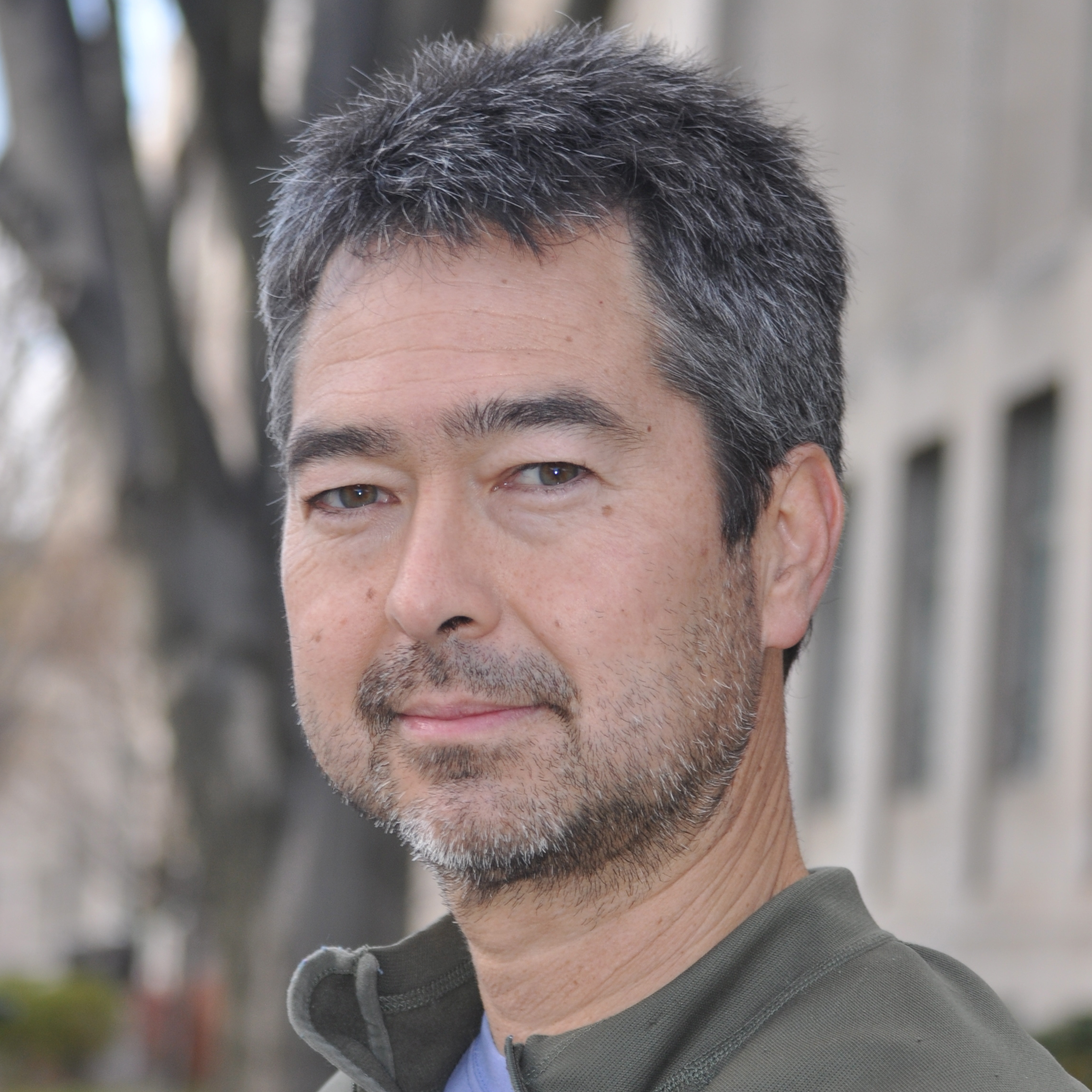 Nathan Phillips is Professor of Earth and Environment at Boston University. His research focuses on physiological mechanisms that regulate water, carbon, and energy exchanges between plants/ecosystems and the environment, especially in the context of environmental change. More recently, this research has been translated to studies of the ecology "in cities", and the ecology "of cities", in an interdisciplinary research program called "Urban Metabolism" supported by the National Science Foundation and Boston University's Sustainable Neighborhood Laboratory.