Board of Trustees Adopts BU Climate Action Plan
Boston University has become a leader in addressing the challenges of climate change with the Board of Trustees' vote on December 7, 2017 to formally adopt the ambitious recommendations of the Climate Action Plan Task Force.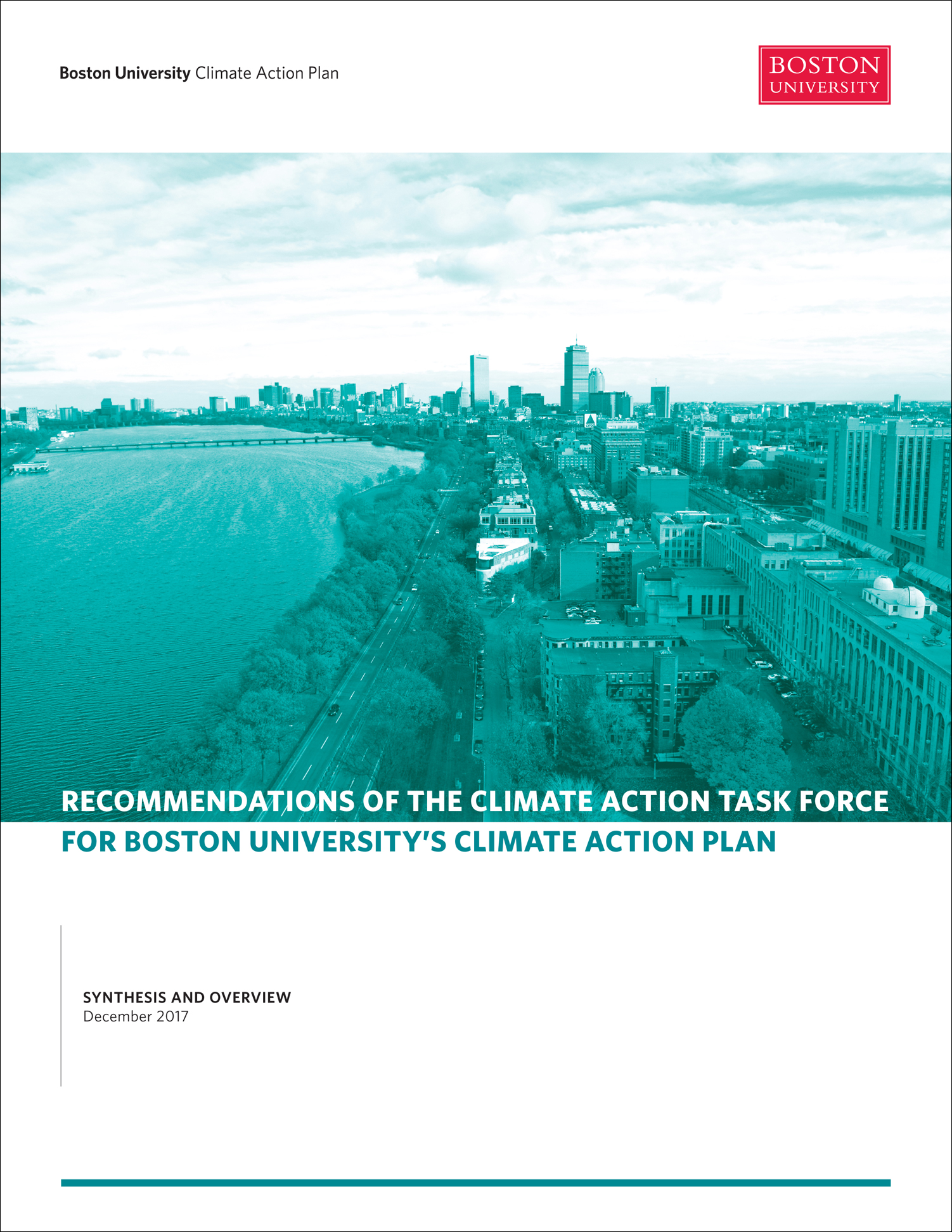 The Task Force, which is chaired by Prof. Anthony Janetos, Director of the Frederick S. Pardee Center for the Study of the Longer-Range Future, published its final report calling for the University to (i) make the BU campuses more resilient to the physical effects of climate change; (ii) attain net zero direct greenhouse gas emissions by 2040; (iii) develop a plan to reduce indirect emissions; (iv) enhance climate change education and research across the University; (v) and, ultimately, fully integrate the Climate Action Plan with the University's Strategic Plan. The Board of Trustees will be updated on the implementation progress of these recommendations every five years to reassess the University's climate change and energy goals.
In a letter sent to the BU community on Friday morning, President Brown thanked the Task Force and praised the plan, writing "the plan puts in place concrete, actionable steps and a plan for oversight of our progress that will put Boston University in a leadership position by working toward the goal of zero net emissions by 2040, a decade before the City of Boston's already ambitious goal of 2050."
"The Board's decision to adopt the Climate Action Plan Task Force's recommendations is very welcome," said Prof. Janetos. "The Climate Action Plan will put the University on a path that will both enhance its educational and research mission and transform its operations to address one of the most difficult and important issues of our time."
The report is the culmination of a year-long effort by the 18-member Task Force and a long list of other authors and contributors. Responding to President Brown's charge to engage a broader community in the discussion, the Task Force held several community forums and received over 70 public comments on the draft plan from BU faculty, staff, and students after it was presented to the Board of Trustees in mid-September. The Climate Action Plan received written support from 45 student groups (representing about 6700 undergraduate and graduate students), the Student and Faculty Councils, and 153 individual faculty members.
Click here to read the feature published on Friday in BU Today about the Board of Trustees' approval of the plan.