Economic Expansions, Past and Present: How America's Experience Connects to Modern-Day China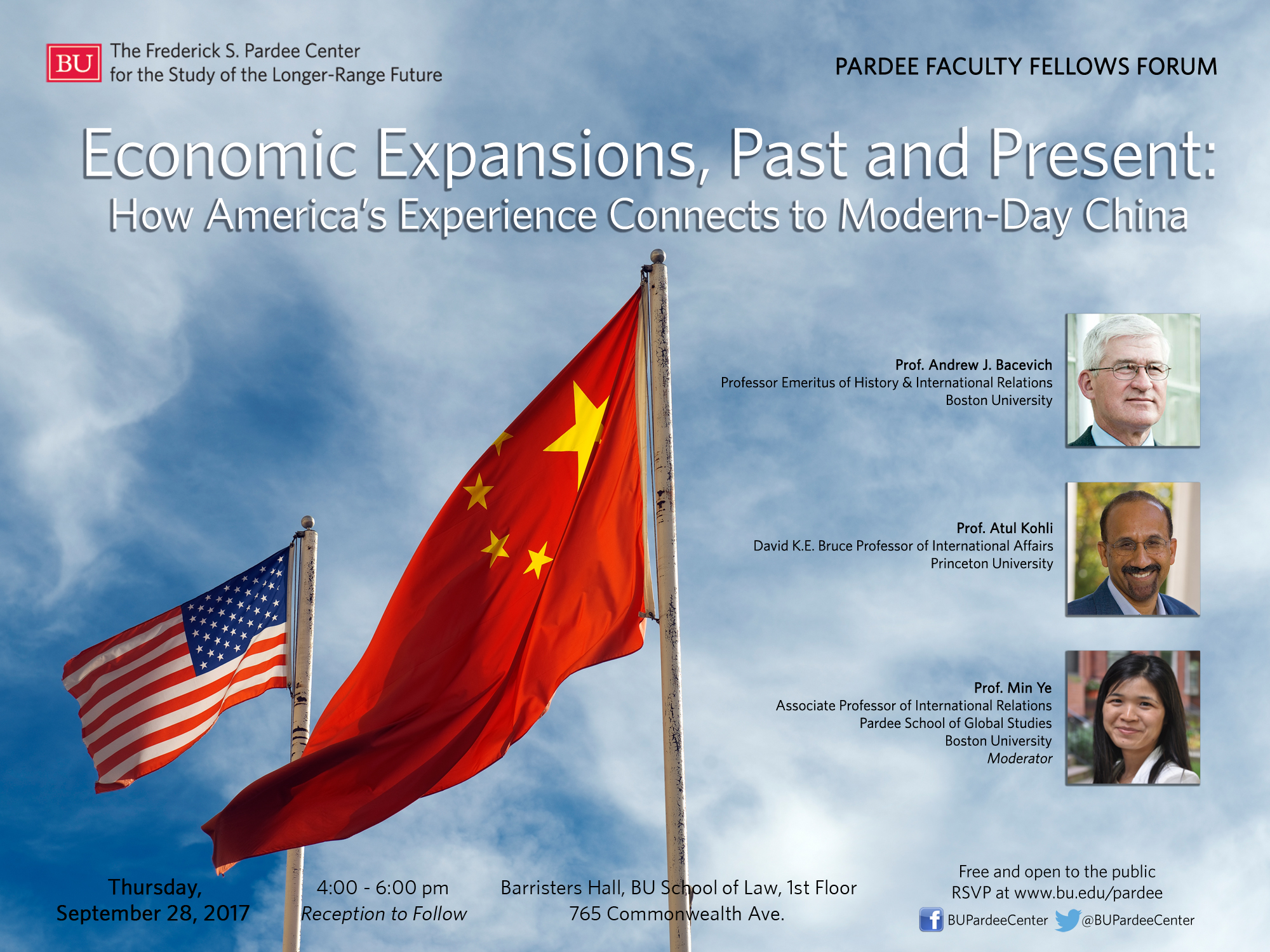 On September 28, the Frederick S. Pardee Center for the Study of the Longer-Range Future hosted a forum titled "Economic Expansions, Past and Present: How America's Experience Connects to Modern-Day China."
In late 2013, the Chinese leadership launched the ambitious Belt and Road strategy to counter industrial overcapacities and economic downturn. Economic priorities have driven the strategy's implementation thus far. The Belt and Road, albeit in its early stage, has mobilized Chinese commercial actors into new development drives and helped stabilize the national economy. What can we make of the patterns of Chinese behavior? What kinds of short-term and long-term implications can we draw? To better understand these questions, we need to go beyond China and go back to history. The program invited Princeton University professor Atul Kohli to present his research on the political economy of historical British and American empires. Boston University professor emeritus Andrew Bacevich provided comments on Prof. Kohli's research and on China's outbound influence.
Participants:
Prof. Atul Kohli is the David K.E. Bruce Professor of International Affairs at Princeton University. His principal research interests are in the areas of comparative political economy with a focus on the developing countries. He is the author of Poverty amid Plenty in the New India (2012) (a Foreign Affairs Best Book of 2012 on Asia and the Pacific); State-Directed Development: Political Power and Industrialization in the Global Periphery (2004) (winner of the Charles Levine Award (2005) of the International Political Science Association); Democracy and Discontent: India's Growing Crisis of Governability (1991); and The State and Poverty in India (1987). He has also edited or coedited nine volumes (most recently, States in the Developing World, 2017) and published some sixty articles. His current research focuses on the topic of "imperialism and the developing world." Through much of his scholarship he has emphasized the role of states in the promotion of prosperity and equity in the developing world.
He is Editor of the journal, World Politics. During 2009-10 he served as the Vice President of the American Political Science Association. He has received grants and fellowships from the Social Science Research Council, Ford Foundation and Russell Sage Foundation.
He received his Ph.D. from the University of California, Berkeley.
Prof. Andrew J. Bacevich is professor of history and international relations emeritus at Boston University. A graduate of the U. S. Military Academy, he served for twenty-three years as a commissioned officer in the United States Army. He received his Ph. D. in American diplomatic history from Princeton. Before joining the faculty of Boston University in 1998, he taught at West Point and at Johns Hopkins.
His most recent books include America's War for the Greater Middle East: A Military History (2016); Breach of Trust: How Americans Failed Their Soldiers and Their Country (2013); Washington Rules: America's Path to Permanent War (2010); The Limits of Power: The End of American Exceptionalism (2008); The New American Militarism: How Americans Are Seduced by War (2005); and American Empire: The Realities and Consequences of U. S. Diplomacy (2002). He is the editor of The Short American Century: A Postmortem (2012); The Long War: A New History of U. S. National Security Policy since World War II (2007); and Imperial Tense: Problems and Prospects of American Empire (2003). Bacevich's essays and reviews have appeared in The Atlantic Monthly, Harper's, Foreign Affairs, New Left Review, The Nation, The New Republic, and The London Review of Books among other publications.
Prof. Min Ye is an Associate Professor of International Relations at the Pardee School of Global Studies at Boston University. Her research focuses on globalization and politics in China and India. Her publications include Diasporas and Foreign Direct Investment in China and India (Cambridge University Press, 2014) and The Making of Northeast Asia (coau. Kent Calder, Stanford University Press, 2010). Prof. Ye was a Post-doctoral fellow of Princeton-Harvard China and the World Program in 2009-2010, the Director of East Asian Studies Program at BU in 2010-2014, and a Public Intellectual Program fellow at the National Committee on U.S-China Relations, 2014-2016. She currently serves as the director of undergraduate studies at Pardee School, a faculty advisor of BU's Initiative on Cities, a member of the faculty council of Harvard's Yenching Institute, and a Faculty Research Fellow at BU's Frederick S. Pardee Center for the Study of the Longer-Range Future.