Pardee Center Founding Director Prof. David Fromkin, 1932-2017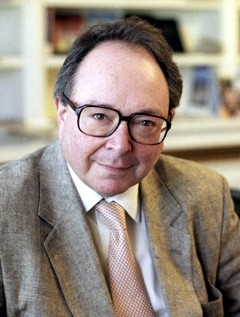 The founding Director of the Frederick S. Pardee Center for the Study of the Longer-Range Future, Prof. David Fromkin, passed away on June 11, 2017 at age 84. A widely respected scholar and a prolific author, he served as the inaugural Director of the Pardee Center from 2000 through 2007. Obituaries were published in The New York Times, The Boston Globe, and BU Today.
During his tenure, the Pardee Center hosted several other well-known senior scholars as Visiting Pardee Professors including development economist and Nobel laureate Amartya Sen, physicist and Nobel laureate Murray Gell-Mann, development economist Paul Streeten, physicist Freeman Dyson, astrophysicist Lord Martin Rees, and mathematical biologist Joel E. Cohen.
"As an interdisciplinary scholar himself, David Fromkin set the trajectory and standards for the Pardee Center's important role in the intellectual life of Boston University as a place where connections are made that help us all better understand how and why the world works in the way that it does," said current Pardee Center Director Prof. Anthony Janetos. "We will be forever grateful for his important contributions."
He wrote several books on 20th century history, and a special 20th anniversary edition of his highly-regarded 1989 book, A Peace to End All Peace: Creating the Modern Middle East 1914-1922, was released in 2009.
Prof. Fromkin served as chair of the Department of International Relations at Boston University (1994-97) and a tribute with more details about his life and career at Boston University is posted on the Pardee School of Global Studies website.