Experts Panel Discusses Cancer and NCDs in Developing World
A panel of experts spoke about the impact of cancer and noncommunicable diseases (NCDs) in the developing world at a seminar on February 24 hosted by the Frederick S. Pardee Center for the Study of the Longer-Range Future. The seminar, titled "Cancer and NCDs in the Developing World: The Looming Crisis in Global Health," was moderated by Pardee Center Faculty Research Fellow Prof. Susan Foster and featured Maia Olsen, Program Manager for the NCD Synergies project at Partners in Health, and Dr. Franklin Huang, co-founder and co-director of Global Oncology (GO).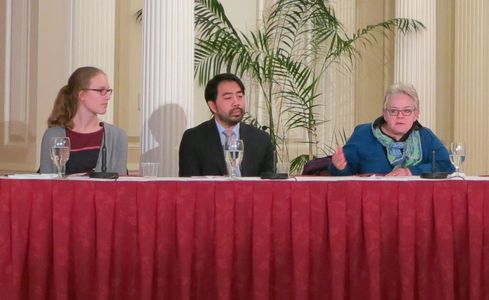 During the seminar, Olsen explained the unique challenge of cancer in Sub-Saharan Africa. The region experiences a very high cancer mortality rate due to late diagnosis, lack of treatment access, and weak health care capacity. The causes of cancer in Sub-Saharan Africa and across the developing world are also very diverse, originating from infectious diseases and a wide range of poverty-related risk factors (e.g. indoor air pollution from poorly ventilated cooking stoves) at much higher rates than in the developed world. Still, only 5 percent of development assistance for health is allocated for cancer – and only 1.2 percent for NCDs – in low- and middle-income countries. To better address the challenges of cancer and NCDs, Olsen drew on the lessons learned from HIV/AIDS treatment and prevention in the region, specifically expanded access to medicine, advocacy, and innovative funding mechanisms. Due to costs, the focus in the region remains on prevention, while HIV/AIDS demonstrated the need for a balance between prevention and treatment. Similarly, Olsen explained the need for a combination of vertical (disease specific responses) and horizontal (comprehensive health systems) approaches.
Dr. Huang is the co-founder of Global Oncology (GO), a non-profit organization dedicated to bringing the best in cancer care to underserved patients around the world. One billion people will die from cancer in the next century, most of whom live in low- and middle-income countries where high-quality cancer care is lacking. Dr. Huang explained several initiatives launched by GO in an effort to counter this trend. The organization has created educational materials to address a lack of knowledge about patients' diagnosis and treatment due to low literacy rates, launched a Global Cancer Project Map to identify cancer control projects around the world, and created an online collaboration and advising platform (GO CAP) for doctors in the developed world to assist those in the developing world, among other projects.
Prof. Foster explained that the prevalence of NCDs in low- and middle-income countries has risen rapidly in recent decades, and the global health community is still adjusting to the new phenomenon. As a result, funding for NCDs remains a major challenge. The majority of assistance comes from foundations, rather than from bilateral organizations, and the funding per disability-adjusted life year (DALY) lags far below other health focus areas. Prof. Foster identified several ways to improve, such as better aligning the burden of disease and expenditures, shifting the symbolism and messaging of NCDs to focus on the suffering of individuals, and reigning in business interests that counteract prevention efforts.
The seminar followed the December release of a Pardee Paper authored by Olsen, a 2013 Pardee Graduate Summer Fellow, titled Cancer in Sub-Saharan Africa: The Need for New Paradigms in Global Health.
This seminar was webcast live and a video will be available in the Pardee Center's Multimedia Library soon.