Panelists Speak on Impacts of Urbanization in Asia at Conference
More than 90 people participated in the Frederick S. Pardee Center for the Study of the Longer-Range Future conference "The Future is Now: Urban Asia in the 21st Century." The conference was held Oct. 8 in the Metcalf Trustee Center on Boston University's campus.
Experts from Boston University and elsewhere explored various aspects of the social and environmental impacts of urbanization in Asia. The all-day conference was co-sponsored by Boston University's Frederick S. Pardee Center for the Study of the Longer-Range Future, the Initiative on Cities, the Center for the Study of Asia, Global Programs India Initiatives, and the Center for Global Health and Development, in collaboration with the Lincoln Institute of Land Policy and BU's Metropolitan College.

Opening remarks were given by Anthony Janetos (Director, Pardee Center), Graham Wilson (Co-Director, Initiative on Cities, BU), and Eugenio Menegon (Director, Center for the Study of Asia, BU). The day consisted of three panels; each panel started with individual presentations by the panelists followed by a lively question and answer sessions, providing an opportunity for many scholars, students, and practitioners in the audience to interact with the presenters.
The overarching theme of each panel was the impacts urbanization has and will have in Asian cities. The panelists noted that cities in Asia are not blank slates—they aren't being built from scratch— but are urban landscapes being built on top of existing ones. Several speakers said that these "new" cities must be shaped not only by the large infrastructure that defines cities, but by paying attention to and meeting human needs, especially the needs of poor people. During the course of the day, they discussed specific examples in cities ranging from Singapore, Shanghai, and Beijing to Jarkarta, Phnom Penh, Kolkata, and Dhaka, Bangladesh.
"We are in a moment of historic urbanization particularly in Asia…the sheer number of people trying to live in the city is unprecedented and the density levels so high that we have to rethink how to organize our urban spaces," said Annette Kim (Director, Spatial Analysis Lab, Price School of Public Policy, University of Southern California). In her remarks during the opening panel, Kim discussed the need for cities to focus on how to redesign a built city to accommodate an influx of people, with a special focus on how people actually use space.
Speakers in the second panel discussed land access and development as a driving force in the politics and economics of the city, as well as the role of community organizations in promoting collaborations with local governments to create programs leading to improved access to economic opportunities and quality of life.
The third panel discussed how urbanization fuels global environmental change (climate change, loss of agricultural land, etc.). BU Professor Susan Foster spoke of how lifestyle changes associated with urbanization, such as "fast food" diets and smoking, can lead to increased health risks including diabetes, stroke, and cancer. She talked specifically about government programs in China that encourage people to smoke as a means of supporting the local tobacco industry. The associated health problems dramatically increase health care costs, which can place a significant strain on family spending, she noted.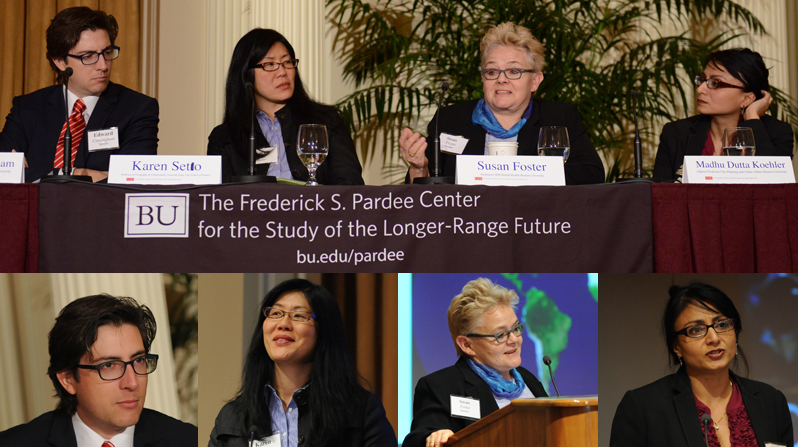 Urban dwellers in Asia will be affected by environmental, societal, and economic impacts of climate change. "Finding ways to adapt to climate change within existing resource constraints is essential to avert or lessen the risks of climate related impacts," said Madhu Dutta-Koehler (Adjunct Professor, Metropolitan College, BU). The coupling of planning objectives related to climate risk management and developmental initiatives that produce synergistic outcomes – such as preserving significant urban wetland areas as protection against flooding and for water quality improvement — increases the likelihood that such measures will be prioritized, funded, and implemented by city-level public agencies, she said.
The first panel, Idea of the City: The Asian Challenge, was moderated by Deepti Nijhawan (Director, Global Programs India Initiative, BU). Speakers included Bish Sanyal (Director, Special Program on Urban and Regional Studies, Massachusetts Institute of Technology), Annette Kim (Director, Spatial Analysis Lab, Price School of Public Policy, University of Southern California), and Adil Najam (Dean, Frederick S. Pardee School of Global Studies, BU).
The second panel, The Politics of the City, was moderated by Julian Go (Professor, Sociology, BU). Speakers included Gavin Shatkin (Associate Professor, School of Pubic Policy & Urban Affairs, Northeastern University), Abidin Kusno (Director, Centre for Southeast Asia Research, University of British Columbia), and Mona Serageldin (Vice President, Institute for International Urban Development).
The third panel, The City and Its Environment, was moderated by Edward Cunningham (Assistant Professor, Earth & Environment, BU). Speakers included Karen Seto (Professor, Geography and Urbanization, Yale School of Forestry and Environmental Studies), Madhu Dutta-Koehler (Adjunct Professor, Metropolitan College, BU), and Susan Foster (Professor, School of Public Health, BU).
Following the panels, Prof. Janetos gave closing remarks and engaged the audience in a discussion about what they had learned throughout the day.
A conference report will be published by the Pardee Center later this year. This conference was the first Pardee Center event to be streamed live online. Video of the event can be viewed in the multimedia section of our website. The videos are divided by panel:
For more information on the conference and to view the agenda, visit the Urban Asia page on our website.
The title of individual presentations are below. PDF copies of some of the speakers presentations are also available here:
Bish Sanyal—Urbanization and Technology: An Experiment in Evaluation Methodology
Annette Kim—Asian Urbanization and Reconstructing the Idea of the City
Adil Najam—Why Cities are Cool in the Age of Global Warming
Gavin Shatkin—The Politics of Land in Contemporary Asian Cities
Karen Seto—Urbanization in India and China: Problem or Panacea to Environmental Sustainability?