GEGI Co-Directors Contribute Articles to Special Issue of Governance
Global Economic Governance Initiative (GEGI) Co-Directors, Prof. Kevin Gallagher and Prof. Cornel Ban, contributed articles to a special issue of Governance. GEGI is a research program of the Center for Finance, Law & Policy, the Frederick S. Pardee Center for the Study of the Longer-Range Future, and the Center for International Relations.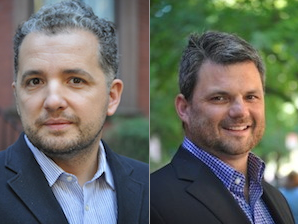 The special issue reviews patterns of policy stability and change at the International Monetary Fund (IMF) since the Great Recession and attempts to explain their causes. Contributors show that the crisis ignited a reassessment regarding how the IMF would position itself as a pivotal player in global economic governance.
Prof. Gallagher and Prof. Ban co-wrote an article, "Recalibrating Policy Orthodoxy: The IMF since the Great Recession," published in the special issue. Also published in the issue, were Prof. Gallagher's article, "Contesting the Governance of Capital Flows at the IMF," and Prof. Ban's article, "Austertiy versus Stimulus? Understanding the Fiscal Policy Change at the International Monetary Fund Since the Great Recession."