Becca Fink Joins Pardee Center Staff as Communications Specialist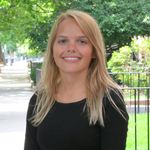 Becca Fink recently joined the staff at the Frederick S. Pardee Center for the Study of the Longer-Range Future as a Communications Specialist. Becca has five years of experience in communications and marketing. She joins the Center with writing, marketing, and reporting experience as well as skills in design, website maintenance, and social media.
As Communications Specialist for the Center, Becca will coordinate the Center's communications program, as well as maintain the Center's website and social media outlets. Becca also will manage and update the multimedia section of the Center's website.
Before joining the Pardee Center, Becca worked as a Communications & Marketing Specialist at the Georgia Health Policy Center in Atlanta. In this position, she was involved in a variety of projects, including writing, editing, and designing promotional materials, fact sheets, and research posters; creating content for internal and external communications; website maintenance; and more. She has also worked as a Communications Coordinator at CUNY Brooklyn College and as a freelance journalist.