Graduate Summer Fellows Begin Research at the Pardee Center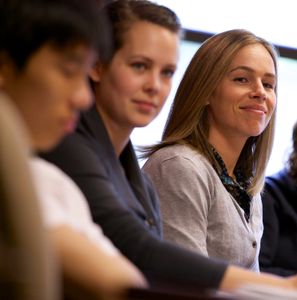 Seven graduate students from across Boston University began research projects this week at the Frederick S. Pardee Center for the Study of the Longer-Range Future. The students are the 2014 Pardee Graduate Summer Fellows and will spend 10 weeks conducting interdisciplinary research that covers a diverse range of issues including food security, renewable energy, access to medicine, and rural to urban land-use change. The group will spend their time at the Pardee Center researching, writing, and meeting with Pardee Faculty Fellows and staff.
On May 28, the Summer Fellows participated in a writing workshop conducted by Center Director Anthony Janetos and Associate Director Cynthia Barakatt. During the workshop, the Fellows were challenged to consider multiple perspectives of their research and urged to take advantage of the unique interdisciplinary environment of the Center and its associated institutions. The students were also given advice on how to adapt papers and presentations about their research for different audiences. The Summer Fellows will use these skills as they compose research papers to be considered for publication in the Pardee publication series, available in print and as PDFs on the Center's website.
In the weeks to come, the Summer Fellows will meet with BU faculty members from different schools and departments during informal lunch sessions to learn about their research, career paths, and  plans for future work. To learn more about the seven Pardee Graduate Summer Fellows and their research topics, click here.