Pardee Director Interviewed During National Climate Assessment Release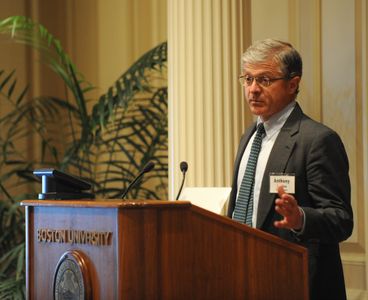 Pardee Director Anthony Janetos was quoted in a May 7th article in Bloomberg BNA titled "US Issues Loudest, Clearest 'Alarm Bell' on Climate Change to Date, Advisers Say". Prof. Janetos was one of several prominent climate change scientists interviewed by Bloomberg BNA after the release of the third National Climate Assessment Report, a Congressionally-mandated report that reviews the impacts of climate change on the United States.
Prof. Janetos served on the external federal advisory committee for the report and is also a co-convening lead author on the mitigation chapter. Following a day of summary presentations about the report at the While House on Tuesday, Prof. Janetos and other authors spent Wednesday on Capital Hill briefing Congressional staff on the report's findings, which show all regions of the US are now experiencing serious impacts from climate change. The authors also discussed adaptation and mitigation steps that local, state, and federal governments can take to respond to the changing climate.
Prof. Janetos has played a role in all three of the National Climate Assessments, serving in the Federal Advisory Committees for each, as a co-chair in the first assessment, and as a lead author on ecosystem impacts  in the second. He has also led in the development of a national system of indicators for climate change impacts and responses on behalf of the Federal Advisory Committee. In addition to his work for the National Climate Assessment, he served as a co-coordinating lead author for the Second Working Group chapter on regional contexts for the fifth report of the Intergovernmental Panel on Climate Change.
Professor Janetos was recently appointed to serve on the steering committee for the second update of the City of Boston's Climate Action Plan, which is scheduled for later this year. He has been with the Frederick S. Pardee Center for the Study of the Longer-Range Future since 2013.