Pardee Center Director Appointed to Boston Climate Action Plan Panel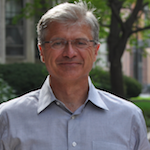 Pardee Center Director Anthony Janetos is among 23 leaders from Boston's academic, business, and non-profit communities appointed to a steering committee that will provide advice as the City updates its Climate Action Plan.
According to an April 4 press release issued by the Boston Mayor's Office, the Steering Committee will review the second update to the City's strategic plan for preparing to deal with the impacts of climate change and its efforts to reduce carbon emissions by 25 percent by 2020 and 80 percent by 2050. An expert in the science and impacts of global climate change, Prof. Janetos is among the "subject matter experts" tapped to play an advisory role in the update. The plan was last updated in 2011.
The press release also announced that Boston will join the C40 Cities Climate Leadership Group (C40), an invitation-only global network of cities on the front line of preparing for and helping prevent climate change.