Pardee & BUCSA to Host Talk on Asian Immigrant Communities in US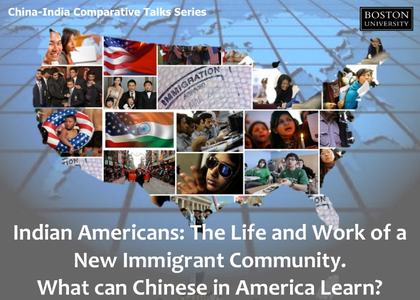 The Frederick S. Pardee Center for the Study of the Longer-Range Future, the Boston University Center for the Study of Asia, and the BU East Asian Studies Program will cosponsor an April 16th talk titled "Indian Americans: The Life and Work of a New Immigrant Community – What can Chinese in America Learn?".
The event, part of Boston University's China-India Comparative Talks Series, will feature discussions by Professor Devesh Kapur (University of Pennsylvania) and Professor Min Ye (Boston University) on the success of Indian-Americans in pursuing the "American Dream" through high-skill occupations and entrepreneurship. The discussions will focus on the four major themes of immigration literature – selection, assimilation, entrepreneurship, and clustering – to advance understanding of characteristics of Indian-American communities that have contributed to this success and what insights Chinese immigrants in America can draw from to advance the well being of their own communities.
The event will take place from 4:00 to 6:00 pm in the Kenmore Room at 1 Silber Way (9th Floor). For more information, visit the Center for the Study of Asia Events Page.