Pardee Center to Host Event on the Latin American Urban Experience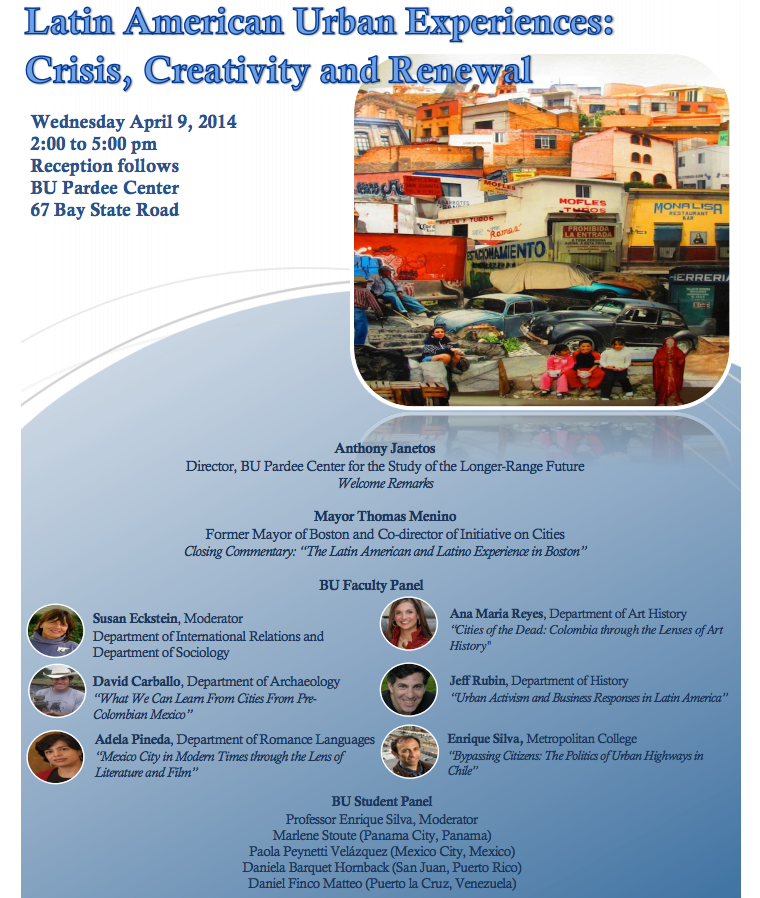 The Frederick S. Pardee Center for the Study of the Longer-Range Future,  the Latin American Studies Program , and the Initiative on Cities at Boston University will cosponsor a mini-conference on "The Latin American Urban Experience: Crisis, Creativity, and Renewal" on Wednesday April 9, 2014 from 2 to 5 pm at the Pardee House. The event will include two panels, one featuring Boston University faculty and and the other featuring BU students discussing major issues and everyday life in Latin American cities.
Faculty panelists include Pardee Faculty Fellow Prof. Susan Eckstein (Department of Sociology) as moderator, Prof. David Carballo (Department of Archaeology), Prof. Adela Pineda (Department of Romance Languages), Prof. Ana Maria Reyes (Department of Art History), Prof. Jeff Rubin (Department of History), and Pardee Faculty Fellow Prof. Enrique Silva (Metropolitan College). The panel of BU students from Latin America, who will discuss their experiences in the region, includes Marlene Stoute (Panama City, Panama), Paola Peynetti Velazquez (Mexico City, Mexico), Daniela Barquet Hornback (San Juan, Puerto Rico), and Daniel Finco Matteo (Puerto la Cruz, Venezuela).
The conference will open with remarks from Pardee Center Director Anthony Janetos.  Former Boston Mayor Thomas Menino, now co-director of the BU Initiative on Cities, will offer closing remarks, speaking on "The Latin American and Latino Experience in Boston."
This event, part of the Pardee Center's research program on The Urban Century, was organized by Prof. Eckstein and Prof. Silva.
Click here to register. The deadline for registration is Thursday, April 3.