Pardee Center Hosts Presentation on Resource Extraction in Latin America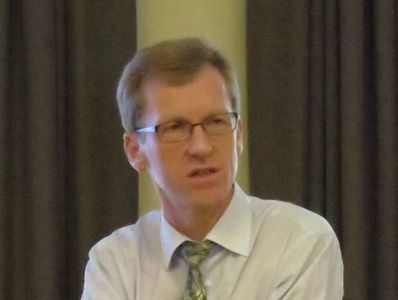 The Frederick S. Pardee Center for the Study of the Longer-Range Future hosted Clark University Professor Anthony Bebbington on Monday, February 24th for a presentation on mining and development in Latin America.
During his presentation titled "Natural Resource Extraction and Development in Latin America: Socio-Economic and Environmental Dimensions," Prof. Bebbington discussed the dynamics of growth in extractive activities and the political mobilization that occurs as a result of that growth. His case studies from Peru, Columbia, Bolivia, and El Salvador documented the "double movement"  of natural resource extraction, including the comodification of natural resources on one side and the counteractions of those opposed to resource extraction on the other, with both forces influencing policy.  Prof. Bebbington also used overlay maps to compare changes in land use which help to highlight the high level of uncertainty and conflict that result from policies that support natural resource extraction under land that has previously been allocated for other purposes.
The event, which was organized by Pardee Faculty Fellow Ann Helwege, was co-sponsored by the Pardee Center and the Latin American Studies Program at Boston University.
Anthony Bebbington is the Higgins Professor of Environment and Society and Director of the Graduate School of Geography at Clark University. He is also a Research Associate of the Centro Peruano de Estudios Sociales, Peru and a Professorial Research Fellow at the University of Manchester. He has worked throughout South and Central America, though primarily in Peru, Ecuador and Bolivia, and more recently in El Salvador. His work addresses the political ecology of rural change with a focus on extractive industries and socio-environmental conflicts, social movements, indigenous organizations and livelihoods.