Pardee Faculty Fellow Published in Global Environmental Politics Journal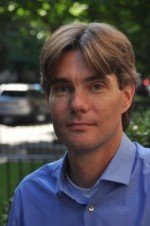 Pardee Faculty Fellow Henrik Selin is the author of an article that was published in the February 2014 issue of Global Environmental Politics.
The article, titled "Global Environmental Law and Treaty-Making on Hazardous Substances: The Minamata Convention and Mercury Abatement" analyzes the legally binding Convention on Mercury and addresses a number of questions related to the history of earlier agreements, the main legal and political issues during the negotiations, and the potential problems associated with treaty implementation moving forward. Prof. Selin argues that the convention will likely affect a number of decisions by public, private, and civil society actors and that future mercury abatement hinges on the parties' ability to move beyond the initial mandates.
Prof. Selin discussed this issue in depth in an October 2013 Pardee Center Issues in Brief titled "The Minamata Convention and the Future of Mercury Abatement" and took part in a Pardee House Seminar on Mercury which can be viewed in full on the multimedia section of our website.