Tony Janetos Presents at National Council for Science and Environment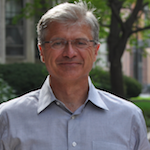 Pardee Center Director Anthony Janetos recently gave two presentations at the 14th National Conference and Global Forum on Science, Policy, and the Environment in Washington DC, an annual event organized by the National Council for Science and Environment.
During the opening plenary session of the conference titled "Building Climate Solutions", Prof. Janetos participated in a panel presentation on how best to communicate the underlying science of climate change, its impacts, and adaptation measures, and the relationship to people's well-being. In his second presentation during one of the Council's afternoon workshops, Prof. Janetos focused on the importance of regional scales of modeling and analysis in integrating the natural sciences with decision making and social sciences in the search for solutions.
Prof. Janetos is an expert on the science and impacts of climate change, and currently serves as a coordinating lead author for the next report of the Intergovernmental Panel on Climate Change, scheduled for release in Spring 2014. Prior to joining the Pardee Center in Spring 2013, he served as Director of the Joint Global Change Research Institute at the University of Maryland, where for six years he oversaw an interdisciplinary team of natural scientists, engineers and social scientists committed to understanding the problems of global climate change and their potential solutions.