Pardee House Seminar on Remittances Set for Tues, Feb. 4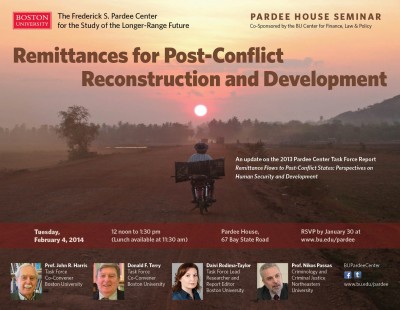 The co-conveners and lead researcher for the 2013 Pardee Center Task Force Report Remittance Flows to Post-Conflict States: Perspectives on Human Security and Development will discuss the report's finding at the next Pardee House Seminar "Remittances for Post-Conflict Reconstruction and Development" scheduled for Tuesday, February 4, 2014 at 12 noon. The seminar is co-sponsored by the BU Center for Finance, Law & Policy.
Seating for the event is limited and advance registration is required by January 30th. 
Click here to register.
The Task Force on Remittances Flows to Post-Conflict States was convened in 2012 by the Boston University Center for Finance, Law & Policy in collaboration with the Frederick S. Pardee Center for the Study of the Longer-Range Future to investigate a wide range of issues central to conflict-induced remittance systems and the possibilities of leveraging remittance funds for post-conflict development.
Task Force conveners Prof. John R. Harris and Donald F. Terry, lead researcher Daivi Rodima-Taylor, and guest speaker Prof. Nikos Passas (Northeastern University) will talk about the ways that migrants' remittances –that is, the transfer of money or other goods to relatives in their home countries —  can provide people in conflict-affected societies with more options for improved livelihoods and enhanced human empowerment and security. The presenters will explore how remittances can serve as a gateway towards greater financial inclusion; the challenges of integrating formal and informal remittance delivery systems; the issues of regulating transnational remittance transfers amidst growing concerns about reliability and transparency; and the growing role of the diaspora in post-conflict development efforts.  The report and the seminar are intended to start a broader conversation about ways to leverage transnational remittance flows for reducing poverty and enhancing post-conflict human security.
Note: The seminar will take place at Pardee House, 67 Bay State Road. Lunch will be available starting at 11:30 a.m. and the seminar runs from 12 to 1:30 p.m.
Speakers' bios:
John R. Harris is Professor of Economics, faculty associate of the Institute for Economic Development and of the African Studies Center at Boston University.  His research has centered on human migration—both rural-urban within developing economies and on international migration. Remittance behavior of migrants has been an important focus of his research. In 2011, his 1970 paper (with Michael Todaro), "Migration, Unemployment, and Development: A Two-Sector Analysis," was recognized as one of the 20 most influential articles published in the American Economic Review in its first 100 years. During his career at Boston University, he served as Director of the African Studies Center from 1975 to 1988. Prior to joining BU, he was Associate Professor of Economics and Urban Studies, and Director of the Special Program for Urban and Regional Studies at the Massachusetts Institute of Technology. He was a co-founder of the Interuniversity Committee on International Migration, which continues to be administered through MIT. He has been a consultant to many international organizations and governments in Africa and Asia.
Donald F. Terry was Manager of the Multilateral Investment Fund (MIF) of the Inter-American Development Bank for 16 years, beginning with the MIF's inception in 1993. Before joining the MIF, Terry held a number of senior staff positions in the United States Congress and the United States Treasury Department. He served as Deputy Assistant Secretary of the Treasury from 1979 to 1981, involved primarily in shaping U.S. policy toward international financial institutions. He was a recipient of the U.S. Treasury's Meritorious Service Award in 1980. From 1983 to 1993 Terry served as staff director of three different U.S. Congressional Committees: the Joint Economic Committee, the House Committee on Small Business, and the House Committee on Banking and Financial Institutions. Previously, he was staff director of the House Committee on Ethics, and served on the staff of the House Judiciary Committee. He currently is a Lecturer at the BU School of Law and a Senior Fellow of the Center for Finance, Law & Policy.
Daivi Rodima-Taylor is a social anthropologist whose research focuses on networks of mutuality and social security; fiduciary culture, savings-credit institutions and remittances; issues of public authority and vigilantism. Her research in East Africa explored indigenous mutual help associations and local conceptualizations of work, money, personhood, and gender, investigating the rise of novel associational environments in the context of ongoing liberalization reforms. She has conducted international development work in the fields of participatory development planning, financial inclusion and microfinance in East Africa, and taught international development and anthropology at Clark University and Brandeis University. She has published on the topics of mutuality and cooperative work, environmental management and land tenure, institutional innovation and climate vulnerability. She holds a doctorate from Brandeis University, and is a Visiting Researcher at the African Studies Center of Boston University.
Nikos Passas, Professor of Criminology and Criminal Justice at Northeastern University and co-Director of the Institute for Security and Public Policy, specializes in the study of corruption, illicit financial/trade flows, sanctions, informal fund transfers, remittances, terrorism, white-collar crime, financial regulation, organized crime and international crimes. He has authored more than 150 articles, book chapters, reports and books in 13 languages, and currently serves as serves as editor-in-chief of the international journal Crime, Law and Social Change. His current projects focus on anti-corruption authorities, the development of performance indicators for the assessment of anti-corruption, integrity and accountability in several countries, corruption and procurement regulation, trade-facilitated money laundering and proliferation of WMD, the regulation of remittance flows in cash-based societies, and on use of IT for the enhancement of due diligence conducted by financial institutions. He is also Law Professor at Case Western Reserve University; Programme Consortium Member and Faculty at the International Anti-Corruption Academy, Vienna; Corruption Program Director at the Ethics and Compliance Officer Association (ECOA); and INSPIRE Fellow at Tufts University.