Next Pardee House Seminar Set for Nov. 20 on "South Asia 2060"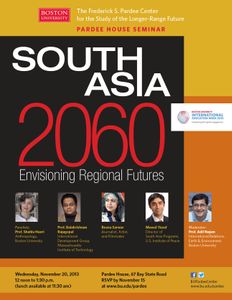 The co-editors and three contributing authors of the recent book South Asia 2060: Envisioning Regional Futures will discuss the future of South Asia at the next Pardee House Seminar on Wednesday, Nov. 20 starting at 12 noon.
Seating is limited and advance registration is required by November 15. Click here to register.
The seminar will provide an overview and highlights of the book (Anthem Press 2013), which is the outcome of a Pardee Center research initiative. Presenters will include co-editors Prof. Adil Najam (International Relations, Earth & Environment and former Pardee Center Director) and Moeed Yusuf (former Pardee Center Graduate Fellow, now Director of South Asia Programs, U.S. Institute of Peace). Other panelists will be contributing authors Prof. Shahla Haeri (BU Anthropology), Beena Sarwar (journalist and filmmaker), and Prof. Balakrishnan Rajagopal (MIT Law and Development). Prof. Najam will serve as moderator.
The book includes contributions from 47 experts with a wide range of backgrounds and expertise including policymakers, academics and civil society leaders. During the seminar, panelist will discuss the likely longer-range trajectories of South Asia's future as a region as outlined in the book. The contributing authors will speak specifically about the topics of their chapters, including gender equality issues (Prof. Haeri), human rights (Prof. Rajagopal) and the media (Sarwar).
This seminar is part of Boston University's program of activities during International Education Week.
Note: The seminar will take place at Pardee House, 67 Bay State Road. Lunch will be available starting at 11:30 a.m. and the seminar runs from 12 to 1:30 p.m.
Speakers' Biographies
Shahla Haeri is an associate professor of cultural anthropology, and former director of the Women's, Gender, & Sexuality Studies Program at Boston University. Trained as a cultural anthropologist with specific focus on law and religion, she is the author of Law of Desire: Temporary Marriage, Mut'a, in Iran (1989) and No Shame for the Sun: Lives of Professional Pakistani Women (2002).
Adil Najam, currently professor of International Relations and Earth & Environment at Boston University, has served as vice chancellor of Lahore University of Management Sciences (LUMS) in Pakistan, the Frederick S. Pardee Professor of Global Public Policy and director of the Pardee Center for the Study of the Longer-Range Future at Boston University, and as associate professor of negotiation and diplomacy at the Fletcher School of Law and Diplomacy, Tufts University. His research focuses on issues of global development, and particularly on climate change and environment.
Balakrishnan Rajagopal is an associate professor of law and development at the Massachusetts Institute of Technology (MIT) and the director of MIT's Program on Human Rights and Justice. He received an interdisciplinary SJD (Doctor of Juridical Science) from Harvard Law School and formerly served with the United Nations High Commissioner for Human Rights in Cambodia between 1992 and 1997. He has consulted with the United Nations Development Programme (UNDP), the World Commission on Dams and with various civil society organizations. His research experience and interests are primarily in South and Southeast Asia, Brazil and South Africa.
Beena Sarwar is a journalist, artist and documentary filmmaker focusing on media, gender, peace and human rights issues, with extensive experience in television and print media in Pakistan and abroad. She has been a Nieman Fellow, Harvard University (2005-06), Research Fellow, Carr Center for Human Rights Policy at Harvard Kennedy School (2006-07), and Associate Fellow at the Ash Center for Democratic Governance at the Harvard Kennedy School (2013). She currently serves as editor of Aman ki Asha, a peace initiative between the Jang Group of Newspapers, Pakistan and The Times of India. Her blog is Journeys to Democracy.
Moeed Yusuf is the Director of South Asia Programs at the U.S. Institute of Peace. A native of Pakistan and a political scientist by training, before joining USIP, Yusuf was a fellow at the Frederick S. Pardee Center for the Study of the Longer-Range Future at Boston University and concurrently a research fellow at the Mossavar-Rahmani Center at Harvard Kennedy School. His co-edited volume, South Asia 2060: Envisioning Regional Futures was published by Anthem (UK) in 2013. He is also the co-editor of Getting it Right in Afghanistan (U.S. Institute of Peace Press, 2013), editor of Pakistan's Counterterrorism Challenge (Georgetown Press, 2014), and editor of Insurgency and Counterinsurgency in South Asia: Does Peacebuilding have a Role? (U.S. Institute of Peace Press, 2014).