Experts Discuss Future of Biogas at Pardee House Seminar
Whether and how organic waste, such as food waste from homes, farms and restaurants, can become a significant source of fuel and electric power was the topic of discussion at the Pardee House Seminar on Oct. 31.
Pardee Faculty Fellow Nathan Phillips organized and moderated the morning session, which featured panelists Amy Barad, Program Director at the Massachusetts Clean Energy Center; Tony LaRusso, Project Director at National Grid; and Paul Sellew, Co-Founder and CEO of Harvest Power. The session was co-sponsored by the Frederick S. Pardee Center for the Study of the Longer-Range Future and the Boston University Sustainable Neighborhood Lab project.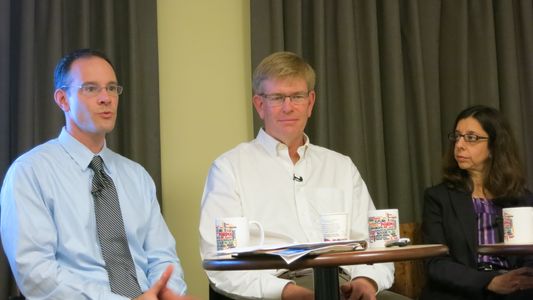 Paul Sellew called it "shameful" that 97 percent of organic waste generated in the U.S. currently goes into the municipal trash stream and ends up in landfills or incinerators. He said that half a billion tons of such waste is generated each year domestically, enough to create biogas fuel equivalent to the amount of diesel fuel currently used by the entire trucking fleet in the U.S.
The panelists addressed technical issues related to the conversion of organic waste to a renewable source of gas through the use of anaerobic digesters like those currently used at wastewater treatment plants. Amy Barad discussed how the use of such technology to convert the waste to gas also reduces greenhouse gas emissions to the atmosphere, as the digesters are closed systems that capture methane that would otherwise be released to the atmosphere.
Tony LaRusso talked about the potential for incorporating renewable gas into the existing natural gas supply, and he said detailed technical analyses have estimated that renewable gas could generate between four and seven percent of current production levels. He said storage is not a significant issue because gas can be compressed or liquified for storage. Sellew added that there is "huge storage capabilities" and noted that gas is a baseload source of power, in contrast to wind and solar, for which lack of storage ability is a major issue and the power source itself is intermittent.
While the panelists spoke primarily about domestic possibilities for biogas use, they noted that it is used on small scales in developing countries, and referred to projects in West Africa and rural China.
In addition to technical issues, the panelists noted that there are economic, cultural, and political issues involved in moving toward biogas as a resource. Sellew said getting individuals and communities to separate food and agriculture waste from other waste streams and agree to locate a biogas plant in their town can be compared to efforts 20 years ago to separate yard waste and establish municipal yard waste composting facilities. All panelists noted that European countries — and Germany, in particular — are far ahead of the U.S and other countries in renewable gas use because of incentives and policies that make it both practical and desirable.
"We all have to be holding hands to move this forward," said Sellew.
A video of the seminar is available in the multimedia section of this website.