Oct. 10 Talk to Launch New Task Force Report on Remittances
The Pardee Center and Boston University's Center for Finance, Law & Policy are co-sponsoring a talk by the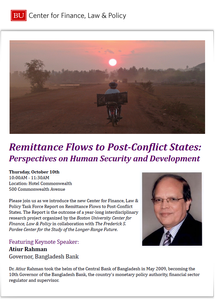 head of the central bank of Bangladesh on Thursday, Oct. 10 to mark the release of the new Pardee Center Task Force Report titled Remittance Flows to Post-Conflict States: Perspectives on Human Security and Development.  The talk will take place from 10 to 11:30 am at the Hotel Commonwealth, 500 Commonwealth Avenue, in the Commonwealth Room. For registration information, click here.
The featured speaker, Dr. Atiur Rahman, has been Governor of the Bangladesh Bank since May 2009. The Bank serves as the country's monetary policy authority, financial sector regulator, and supervisor. Dr. Rahman is known as an advocate for pro-poor, environment-friendly, and gender-sensitive development policies. A renowed economist, he has previously served as a university professor and researcher as well as Director of Sonali Bank, Chairman of the Board of Directors of Janata Bank, and for many years as a Senior Research Fellow at the Bangladesh Institute of Development Studies (BIDS).
The new Pardee Center Task Force Report is the outcome of an interdisciplinary task force of experts on the topic convened by the the Center for Finance, Law and Policy in collaboration with the Pardee Center, and led by BU Economics Professor John Harris and Donald F. Terry, an expert in international banking and Lecturer at the BU Law School. The report presents research and analysis on various aspects of remittance flows to post-conflict countries, and proposes policy recommendations regarding the role of remittances in post-conflict environments and their potential to serve as a major source of development funds. The report is available in electronic format, and hard copies are available free of charge from both the Pardee Center and the Center for Finance, Law & Policy.