Pardee House Seminar March 26, On a Systems View of Development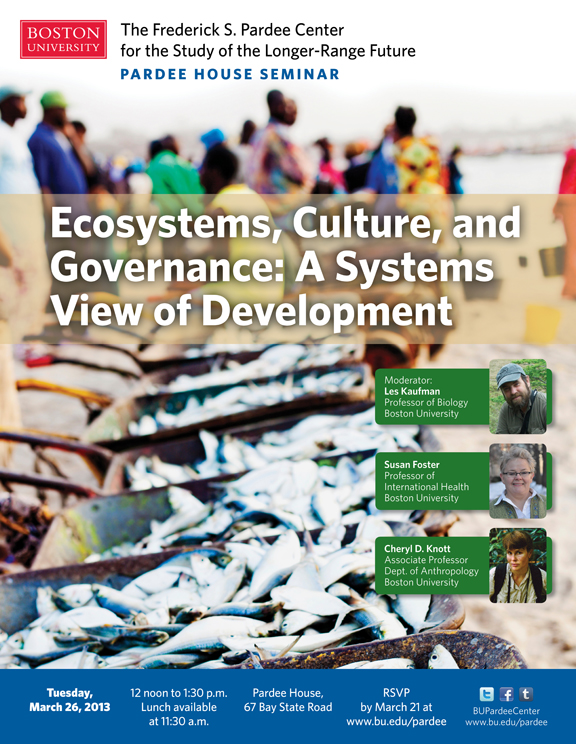 The Frederick S. Pardee Center is pleased to announce the March Pardee House Seminar, titled Ecosystems, Culture, and Governance: A Systems View of Development. The seminar will take place Tuesday, March 26, 2013, from noon to 1:30pm. Pardee Faculty Fellow Les Kaufman (Biology, BU) will moderate and Pardee Faculty Fellow Susan Foster (School of Public Health, BU), and Prof. Cheryl Knott (Anthropology, BU) will talk.
The Seminar will be held at Pardee House, 67 Bay State Road. (Lunch will be available from 11.30am, seminar starts at 12.00pm). Seating is limited. Please RSVP by March 21st by registering here.
Prof. Les Kaufman is a Biology Professor in the Boston University Marine Program and an evolutionary ecologist who studies basic processes that drive the creation, collapse, and conservation of aquatic species diversity on coral reefs and tropical great lakes. He currently focuses on clinical research on the dynamics of human-natural coupled systems, to create supporting science for global sustainability and climate change adaptation.
Prof. Susan Foster is a Professor of International Health in the Boston University School of Public Health. Her research interests are primarily on the economics of infectious disease, particularly antibiotic and antimicrobial resistance, malaria, HIV/AIDS, sexually transmitted infections, and TB, and she is involved in several research projects, primarily in Africa.
Prof. Cheryl Knott is a Biological Anthropologist at Boston University. Her research is focused on orangutan behavior and biology  both as a way to further our understanding of endangered great apes and as a model for looking at human evolutionary history. She is also actively involved with trying to protect orangutans and the rainforest.