Pardee House Seminar Feb. 25 on the New Global Agreement on Mercury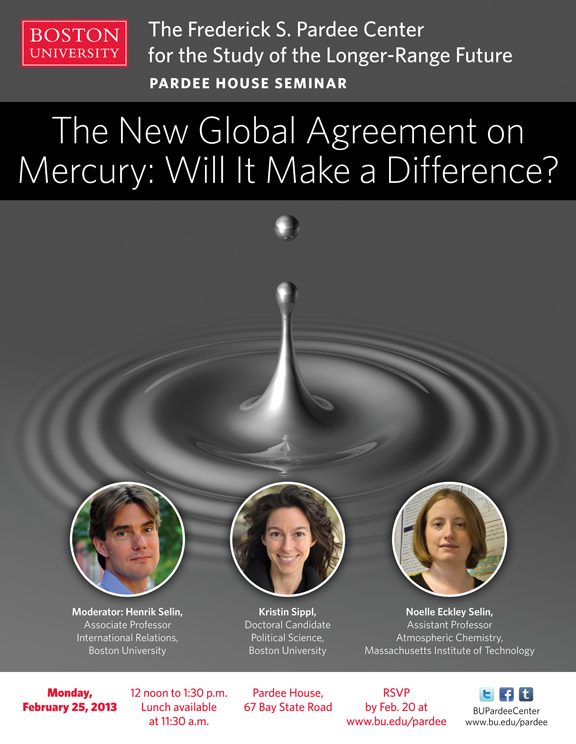 The Frederick S. Pardee Center for the Study of the Longer-Range Future is pleased to announce the next Pardee House Seminar, titled The New Global Agreement on Mercury: Will It Make a Difference? The seminar will take place on Monday, February 25, 2013 from noon to 1:30 p.m. Pardee Faculty Fellow Henrik Selin (International Relations, BU) will moderate. Other speakers will include 2011 Graduate Summer Fellow and doctoral candidate Kristin Sippl (Political Science, BU) and Prof. Noelle Eckley Selin, (Atmospheric Chemistry, MIT).
The Seminar will be held at Pardee House, 67 Bay State Road. (Lunch will be available from 11.30am, seminar starts at 12.00pm). Seating is limited. Please RSVP by February 20th by registering here.
Prof. Henrik Selin: Prof. Selin is Associate Professor of International Relations at BU and an expert in international environmental politics and sustainable development, and global governance and international institutions. His most recent book is titled Global Governance of Hazardous Chemicals: Challenges of Multilevel Management.
Kristin Sippl: Kristin Sippl is a Ph.D. candidate in the Department of Political Science at BU. At the Pardee Center, her work explored transitions away from mercury use among artisanal gold miners in developing countries.
Noelle Eckley Selin: Prof. Eckley Selin is Assistant Professor of Atmospheric Chemistry and Engineering Systems at MIT. She is an expert in climate change and hazardous substances and atmospheric chemistry modeling used to inform decision-making strategies on air pollution.