Prof. Gallagher's Blog Post Is No. 2 on Financial Times Top 10 List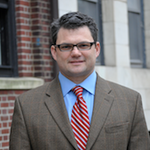 The Financial Times has complied a top ten list for the most popular guest posts in 2012 on in its "beyondbricks" blog about emerging markets. Pardee Faculty Fellow  Kevin P. Gallagher's March entry "Why Ocampo — Not Kim — should be next World Bank president," was the second most popular on the publication last year.
Prof. Gallagher is the Principle Investigator in the Pardee Center research project, The Global Economic Governance Initiative.