Pardee Center Releases New Paper on Role of Religion in Latin America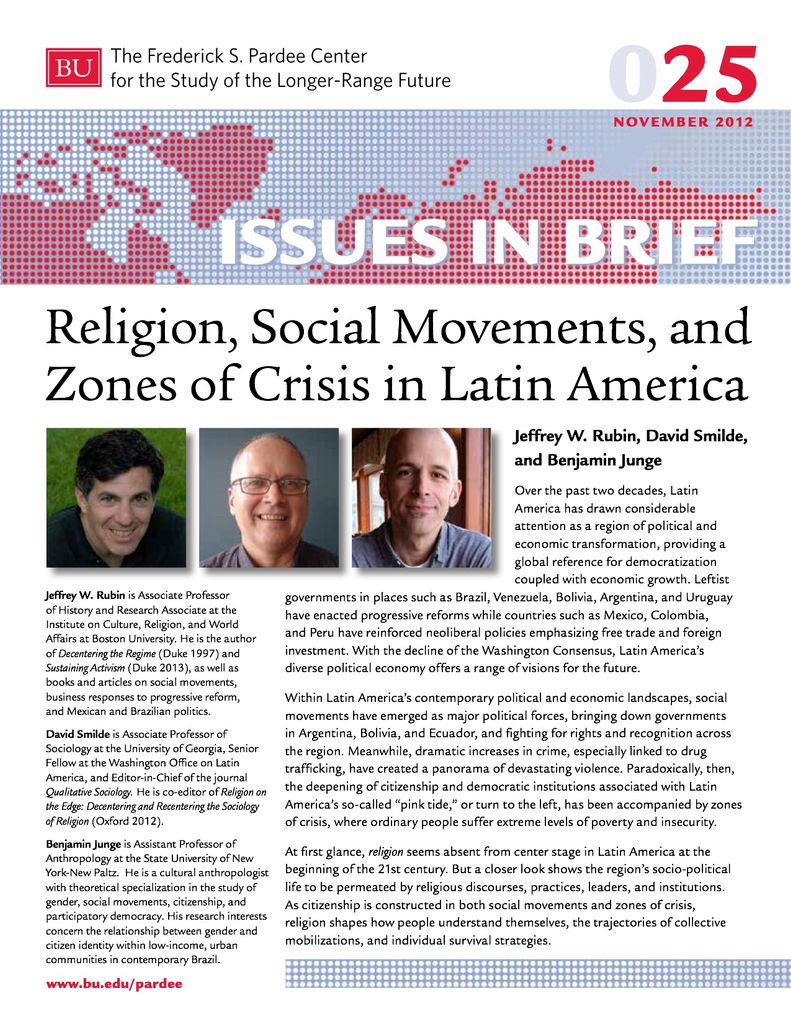 The Frederick S. Pardee Center for the Study of the Longer-Range Future has published the 25th paper in the Issues In Brief series.  "Religion, Social Movements, and Zones of Crisis in Latin America," was written by Boston University Prof. Jeffrey W. Rubin, Prof. David Smilde of the University of Georgia, and Prof. Benjamin Junge of the State University of New York-New Paltz.  The paper presents the findings of a three-year project led by Boston University's Institute on Culture, Religion, and World Affairs (CURA) exploring the connections between religion and social movements in Latin America. The authors argue the study of these movements must consider the important and multiple roles played by religion in Latin America.
An electronic version of the paper can be downloaded from the publications library on the Pardee web site. Hard copies are free and may be requested by sending an email to pardee@bu.edu.
Related podcasts taken from an event titled Religion, Social Movements, and Zones of Crisis in Latin America, "Seized by the Spirit: The Mystical Foundation of Squatting among Pentecostals in Caracas," and "Everyday Politics in the Periphery of São Paulo: Catholic Church and Housing Movement Intertwined," are also available on the Multimedia Page.