Pardee Center Is Co-Sponsor and Host of Seminar on Remittances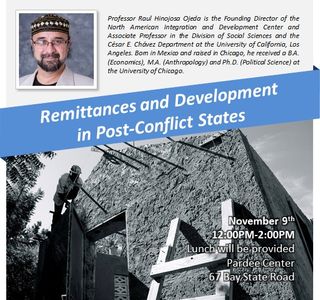 The Frederick S. Pardee Center for the Study of the Longer-Range Future will host a special lunch seminar on Friday, November 9 from noon to 2 p.m. titled "Remittances and Development in Post-Conflict States" in connection with a task force of the same name organized by the BU Center for Finance, Law & Policy and co-sponsored by the Pardee Center. Seating is limited and registration is required.
The seminar will feature a talk by Raul Hinojosa-Ojeda, Associate Professor in the Department of Chicana and Chicano Studies at the University of California, Los Angeles, and a renowned expert on remittances.
Prof. Hinojosa-Ojeda is a co-originator of the proposal for the North American Development Bank, which was created by the U.S. and Mexican governments in 1994. He is the author of numerous articles and books on the political economy of regional integrations in various parts of the world, including trade, investment and migration relations between the U.S., Mexico, Latin American and the Pacific Rim.
The Task Force was established to look at the role that diasporas and remittances can play in re-developing post-conflict states. Remittances, which are generally small transfers of money to family members from individuals who live and work in another country, can be a major catalyst for economic development, particularly in post-conflict regions characterized by widespread displacement and institutional breakdown.
The Center for Finance, Law & Policy convened the Task Force and is hosting a meeting of several members on Thursday, Nov. 8 and Nov. 9. As a co-sponsor of the Task Force, the Pardee Center is hosting the seminar and will publish a report of its findings in 2013.
Register for the Nov. 9 seminar here.