Pardee House Seminar Nov. 6 on the Asia-Latin America Relationship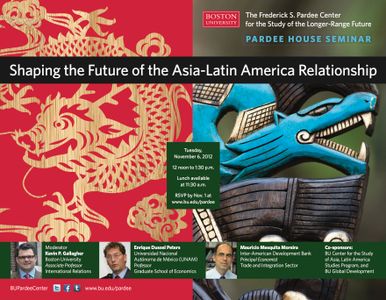 The Frederick S. Pardee Center for the Study of the Longer-Range Future is pleased to announce a Pardee House Seminar titled, Shaping the Future of the Asia-Latin America Relationship, will be held on Tuesday, November 6. Economics Professor Enrique Dussel Peters of the Universidad Nacional Autónoma de México and Principal Economist Mauricio Mesquita Moreira of the Inter-American Development Bank will speak along with Pardee Faculty Fellow Kevin P. Gallagher, who will moderate. The seminar is co-sponsored by the BU Center for the Study of Asia, Latin American Studies Program, and BU Global Development.
Enrique Dussel Peters teaches at the Graduate School of Economics, Universidad Nacional Autónoma de México (UNAM). His expertise includes trade and regional patterns in Latin America and Mexico, NAFTA and CAFTA, economic development, political economy and industrial organization and trade theory. He has written numerous publications on the relationship between the Mexican and Chinese economies, as well as the Latin American and Chinese economies. Prof. Peters is also a consultant for several Mexican and international institutions.
Mauricio Mesquita Moreira is Principal Economist and Research Coordinator of the Integration and Trade Sector of the Inter-American Development Bank (IDB).  He is the author of numerous studies on the dynamics between the Chinese and Latin American economy, including Shaping the Future of Asia and Latin America Relations. Prior to joining the IDB, Mr. Mesquita Moreira held a position at the Research Department of the Development Bank of Brazil (BNDES) and taught at the Federal University of Rio de Janeiro, Brazil.
Kevin P. Gallagher is a Pardee Faculty Fellow and an Associate Professor at the department of International Relations at BU. Prof. Gallagher is the Faculty Coordinator for Boston University's Global Development Program and is a research associate at the Global Development and Environment Institute at Tufts University. He is author of The Dragon in the Room: China and the Future of Latin American Industrialization (with Roberto Porzecanski).
The Seminar will be held at Pardee House, 67 Bay State Road, on November 6, 2012 at (Lunch will be available from 11.30am, seminar starts at 12.00pm). Please RSVP by Nov. 1 by registering here.