2012 Pardee Summer Fellows Program Kicks Off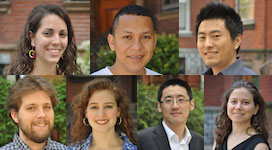 The 2012 Pardee Graduate Summer Fellows arrived at the Pardee House today, marking the beginning of their summer fellowships. The seven selected students will spend 10 weeks based at Pardee House researching and writing papers that will be considered for publication in one of the Center's publication series. They also will participate in special programs designed to promote interaction among the interdisciplinary group and to introduce them to faculty members affiliated with the Pardee Center.
The Pardee Graduate Summer Fellows program began in 2008. You can learn more about the program and past Summer Fellows here.