Experts Discuss the Future Role of Universities Worldwide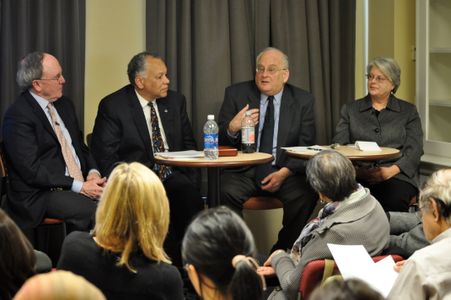 The Frederick S. Pardee Center for the Study of the Longer-Range Future held the first Pardee House Seminar of the year on January 24, 2012 on 'Future Roles of Universities Worldwide: Moving Beyond the Ivory Tower?
The seminar was organized and moderated by Pardee Visiting Faculty Fellow Rob Hollister (Dept. of Urban and Environmental Policy and Planning, Tufts University) and featured Prof. Philip G. Altbach (Director, Center for International Higher Education, Boston College), Prof. Hardin Coleman (Dean, School of Education, BU) and Sally Susnowitz (Director, Public Service Center MIT).  About 35 students, faculty, and guests attended the lunch seminar held at the Pardee Center.
Professor Altbach reviewed the recent patterns in the higher education system worldwide. "To view the future you have to look at the past," he said. Professor Altbach said the two most prominent trends in the past few decades are a dramatic increase in enrollment at universities around the world, and the impacts of globalization.  Unfortunately, Altbach says the  enrollment increases – or "massification"  – correlates with a decrease in the quality of education, on average.  And globalization has been both "promising and problematic" as the brightest students from developing countries are able to attend top-ranked universities in developed countries.
Professor Coleman stressed the ability for universities to benefit the surrounding communities both economically and educationally. The key to fostering this community relationship is a curriculum that encourages outreach and service work locally and regionally. Doing so will also create new leaders in the area, he said.
Professor Hollister argued universities should dedicate themselves to playing a greater civic role in the community. He cited a global network of universities called The Tallories Network, which he helped found, as one vehicle for universities to work collaboratively on emphasizing this focus.  "Universities can be the engines of social and economic development," said Hollister. He added that community outreach would in turn create more public support.
Ms. Susnowitz stressed the role of education as a collaborative effort, and argued the focus should be on students, first and foremost. The future of education, she argued, lies in communication technologies. She mentioned the soon-to-be-implemented free online courses at MIT as one example of this. However, she warned that some innovative ideas about universities and the future may only be a potential for elite schools with the resources to experiment.
Afterwards, the audience engaged the panel in discussions of student debt and the role of public finance in higher education, the role of universities in job training, and the role of the liberal arts in education.
A video of the seminar is available on the multimedia section of the Pardee Center web site.