Experts Discuss Invasive Species and Future Ecologies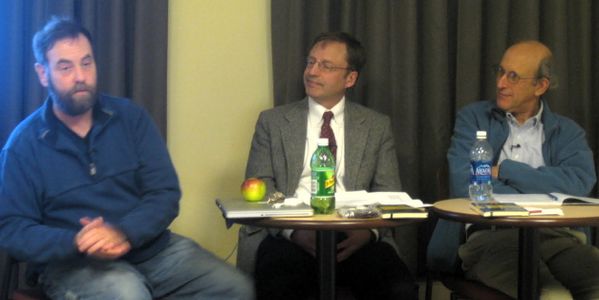 On Tuesday, October 18, 2011, The Frederick S. Pardee Center for the Study of the Longer-Range Future held a lunch seminar on 'Invasive Species and Future Ecologies: Bugs, Viruses, Mussels, and Weeds". Part of the 'Pardee House Seminars' series, the event featured Prof. Les Kaufman(BU Marine Program and Conservation International), Prof. Richard Pollack (BU Department of Biology) and Prof. Richard Primack (BU Department of Biology). The seminar was moderated by Pardee Center Director, Prof. James McCann.
Prof. Les Kaufman is Professor of Biology at Boston University. He is also Professor in the BU Marine Program (BUMP). In addition to being a member of the BU faculty, Kaufman is Senior Marine Scientist for Conservation International, a Research Scholar with The New England Aquarium and Associate in Ichthyology, Harvard Museum of Comparative Zoology. With his expertise in marine biology, he begin the conversation by discussing the implications of the Nile Perch in Lake Victoria and what kind of economic, sociological and ecological surprises resulted from its invasion of Lake Victoria.
Prof. Richard Pollack is Research Associate Professor at Boston University and President at IdentifyUS LLC. He is also the chair of the Mosquito Advisory Group at the Massachusetts Department of Agricultural Research. He brought a different perspective to the conversation by talking about insects and the diseases they bring with them and how they become part of local ecology as a result. He used the West Nile Virus in Boston to illustrate his point.
Prof. Richard Primack is Professor of Biology at Boston University. He is currently studying the impact of climate change on the flowering times of plants and the spring arrival of birds in Massachusetts, Japan, and South Korea. He spoke about invasive species that are plants. Prof. Primack discussed how foreign plants become invasive when they are introduced to a native habitat. He also discussed the reasons for foreign plants to be introduced and possible strategies to cope with them.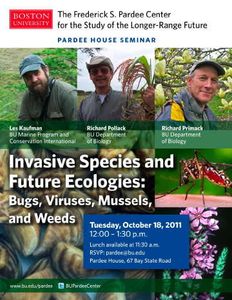 Following the presentations the audience engaged in a lively discussion with the panelists. Prof. McCann began the Q&A session by asking the panelists how competition plays a part for invasive species in native environments. Some of the other issues discussed include the role of complexity in relation to the resilience of systems, the political motivations for controlling native and invasive species and the responsibility of the current generation to ensure biodiversity of the environment.
The video of the seminar is available at the Pardee Center's multimedia webpage