Experts Meet at Pardee Center to Discuss Foresight Research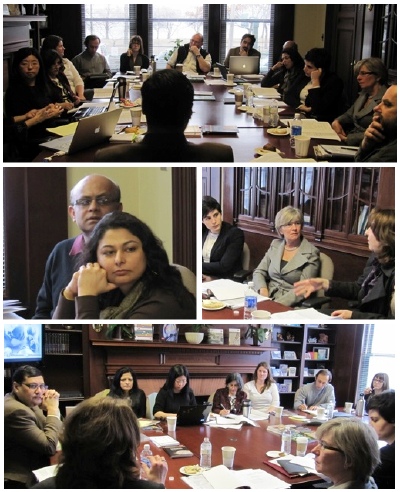 The Pardee Center hosted an experts workshop on Thursday, March 10 to review the Center's ongoing work on the "Searchlight: Visualization and Analysis of Trend Data" project for the Rockefeller Foundation.
Ten experts (see list below) from various disciplines met with the Pardee Center's project team members and Claudia Juech, Managing Director of the Rockefeller Foundation, to review preliminary outcomes of the Center's work and provide feedback. The Pardee Center project team members who attended the meeting include Prof. Adil Najam, Pardee Center Director; Prof. Suchi Gopal of the Geography and Environment Department; Cynthia Barakatt, Pardee Center Programs Manager; and Graduate Research Assistants for the project, Sarah Chung and Lindsey Everett.
Using data from organizations that observe and monitor regional trends on a number of societal issues in various parts of the world, the Pardee Center team is working to develop sophisticated methods to systematically visualize, analyze, and draw conclusions from these regional trends. The goal is to identify and visually represent key ideas and themes emerging from regional trend analyses in a way that is user-friendly, globally accessible, policy relevant and useful to policymakers and scholars as well as other trend analysis programs.
The experts' feedback will be considered as the project team produces the final results and develops a project report over the summer. Experts at the meeting included: Karen Clark (President and CEO, Karen Clark & Company), Amy Fisher (BU Corporate and Foundations Relations), Rania Ghosn (Pardee Center Post-Doctoral Fellow), Christopher Gill (Professor of Public Health, BU), Shafiqul Islam (Professor of Civil and Environmental Engineering, Tufts University), Les Kaufman (Professor of Biology, BU), Jerry Keusch (Professor of International Health, BU), Enrique R. Silva (Professor of City Planning, BU), Vandana Wadhwa (Lecturer in Geography and Environment, BU), Muhammad Hamid Zaman (Professor of Biomedical Engineering, BU).
More details about the Pardee Center's work on the project for the Rockefeller Foundation can be found here and here.