Global Philanthropy Trends Discussed at Pardee House Seminar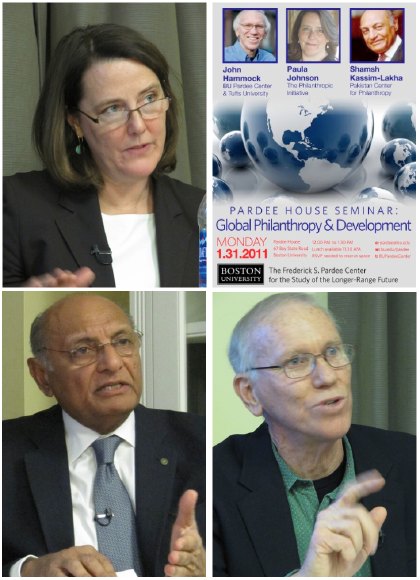 On Monday, January 31, 2011, The Frederick S. Pardee Center for the Study of the Longer-Range Future held a lunch seminar on 'Global Philanthropy and Development'. Part of the 'Pardee House Seminars' series, the event featured Paula D. Johnson, John Hammock and Dr. Shamsh Kassim-Lakha, and was moderated by Prof. Adil Najam, Director of the Pardee Center.
Prof. Dr. Shamsh Kassim-Lakha is the founder and serves as the Chairman of the Board of the Pakistan Center for Philanthropy. He began the conversation by suggesting that the constraints of government in developing countries provide opportunities for private sector & philanthropy. He also talked about the role governments can play in creating an enabling environment for philanthropy and the creation of social assets in a country. Dr Lakha also talked about how one of the main challenges for philanthropy is the lack of trust between the donors and receivers.
Paula Doherty Johnson is Vice President and Director of Global Philanthropy at The Philanthropic Initiative, Inc. (TPI). She started her comments by explaining that global philanthropy is an emerging field of study, with huge knowledge gaps & no globally comparable data. She then provided an overview of the various models philanthropy globally and discussed the challenges to global philanthropy. She also called for more collaboration and learning across countries between philanthropists.
John Hammock is an Associate Professor of Public Policy at Tufts University's Fletcher School of Law and Diplomacy, and the North American Director of the Oxford Poverty and Human Development Initiative. He is also a Visiting Research Fellow at the Frederick S. Pardee Center for the Study of the Longer-Range Future at Boston University. He began his remarks by highlighting the massive increase in private wealth that has been accumulated in recent years and which is propelling the recent rise in private philanthropy. However, he suggested that private sector philanthropy can also be detrimental to international development if it is divorced from a sense of local needs. This is particularly so because new philanthropists often bring with them an impatience and a need for quick results instead of true development which often takes time. Instead, he argued that true social change will come about with local participatory development.
Following the presentations the audience engaged in a lively discussion with the panelists. Prof. Najam began the Q&A session by asking about developmental impact of philanthropy. Some of the other issues discussed included further discussion on challenges in global philanthropy, the role of government in philanthropy and development, the difference between charity and philanthropy, and measurement tools for development projects.
The video of the seminar will be soon made available at the Pardee Center's multimedia webpage