Next Pardee House Seminar (Oct 6): The Role of the University in Building Global Citizenship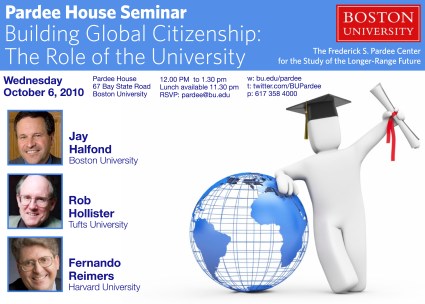 The Frederick S. Pardee Center for the Study of the Longer-Range Future will hold a lunch seminar on 'Building Global Citizenship – The Role of the University' on Wednesday, October 6, 2010, featuring Dean Rob Hollister (Tufts University), Prof. Fernando Reimers (Harvard University) and Dean Jay Halfond (Boston University). The Seminar will be moderated by Prof. Adil Najam, Director, Pardee Center.
Dean Jay Halfond is the Dean of the Metropolitan College and a professor of Administrative Sciences at Boston University. He holds a Ph.D. in Higher Education from Boston College. He also serves as the Chair of the Boston University President's Council  for a Global University.
Dean Rob Hollister is Dean of the Jonathan M. Tisch College of Citizenship and Public Service at Tufts University and holds the Pierre and Pamela Omidyar Chair of Citizenship and Public Service. A specialist in citizen participation in public affairs, he has been engaged in teaching graduate and undergraduate students, practicing professionals, and citizens for over 30 years, and has led planning and development of Tufts University's comprehensive approach to education for active citizenship. This includes working with The Talloires Network, an international association of institutions committed to strengthening the civic roles and social responsibilities of higher education.
Prof. Fernando M. Reimers is the Ford Foundation Professor of International Education and Director of Global Education and of International Education Policy at Harvard University. His current research in Brazil and Mexico focuses on the impact of education policy, education leadership and teacher professional development on literacy competencies, citizenship and advanced cognitive skill. Professor Reimers is also interested in the contributions of education to the development of global skills and citizenship.
The Seminar will be held at Pardee House (67 Bay State Road, Boston) on Wednesday, October 6, 2010.
The Pardee Seminar Series focuses on a variety of issues and invites experts from different disciplines to discuss the long-range challenges and trends in that particular issue.
Lunch will be available from 11.30am, and the seminar itself will start at 12.00pm. Please RSVP pardee@bu.edu by Monday, October 4, 2010. Seating is limited to 30 participants.