Pardee House Seminar Discusses Accountability in Global Governance
On Thursday, September 9, 2010, The Frederick S. Pardee Center for the Study of the Longer-Range Future launched its Fall 2010 Calendar of activities with a lunch seminar on 'Accountability in Global Governance'. Part of the 'Pardee House Seminars' series and also also a part of the Pardee Center's suite of activities of global governance, the event featured Mr. Mark Halle, Dr. Adnan Amin and, Ambassador Lumumba Di-Aping and, was moderated by Prof. Adil Najam, Director of the Pardee Center.
Mark Halle is the European Director of the International Institute for Sustainable Development (IISD). He began the conversation by noting achievements in Global Environmental Governance, including new treaties and institutions, transparency and participation. He also pointed out the problem of accountability, highlighting the gap between pledges and actions and that a new mindset is needed.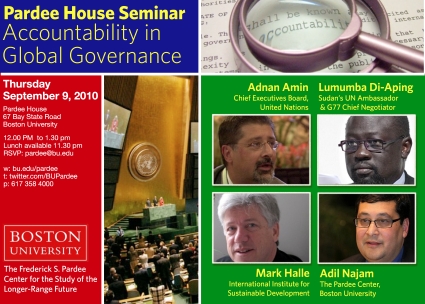 Adnan Amin is Director of the United Nations Chief Executives Board for Coordination (CEB) Secretariat. He pointed out the tremendous growth of the global institutional architecture but that the global architecture is built on a shaky foundation, and accountability is the missing pillar. He also suggested that institutional proliferation without implementation has begun to undermine the credibility of the international system.
Amb. Lumumba Di-Aping of Sudan, is his country's Deputy Permanent Representative to the United Nations and has  the Chief Negotiator of the G-77 in recent environmental negotiations. He highlighted accountability as a major means to bringing justice and that testing in key to accountability in policies.
Following the presentations the audience engaged in a lively discussion with the panelists. Prof. Najam began the Q&A session by asking why accountability is missing, or absent, from the system. Some of the other issues discussed included the role of world powers and donor countries, methods to promote accountability and the role of academia in promoting accountability in global environmental governance.
The seminar was held in conjunction with an experts meeting on accountability in global environmental governance (GEG) held at Pardee House the same day.
The event has been live-tweeted. Follow the Pardee Center on Twitter for future live-tweets events.
The video of the seminar will be soon made available at the Pardee Center's multimedia webpage.