Prof. Adil Najam Appointed to Editorial Boards of Two Academic Journals: Global Governance and Human Development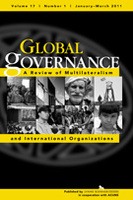 Prof. Adil Najam, Director of the Frederick S. Pardee Center for the Study of the Longer-Range Future and Boston University Professor of International Relations and Geography and Environment, has recently been invited to serve on the editorial of two prestigious academic journals, both related to the central mission of the Pardee Center.
Prof. Adil Najam will serve on the editorial board of the Journal of Human Development and Capabilities, which has recently changed its name and used to be called The Journal of Human Development. The journal describes itself as a "multi-disciplinary journal for people-centered development" and is the flagship publication of the Human Development Capability Association (HDCA). In June 2010, Prof. Adil Najam had been elected as a Fellow of the Human Development Capability Association (HDCA). The peer reviewed journal was launched in January 2000 to provide new perspectives on challenges of human development, capability expansion, and poverty eradication, human well being, markets, growth, social justice and human rights.
Prof. Adil Najam has also been invited to continue serving of the editorial board of the journal Global Governance, a position that he has served in since 2006. The journal is a "review of multilateralism and international organizatioons" and "showcases the expertise of leading scholars and practitioners concerned with the processes of international cooperation and multilateralism. The result is a provocative exploration of the most pressing transnational challenges of our time—issues of peace and security, development, human rights, the environment, and health among them—presenting groundbreaking research, opinion pieces, and book reviews."